Chalkline Sports was recently featured in iGaming Business as a company to watch in the US sports betting industry. Here's a recap of top takeaways. You can read the complete article right here.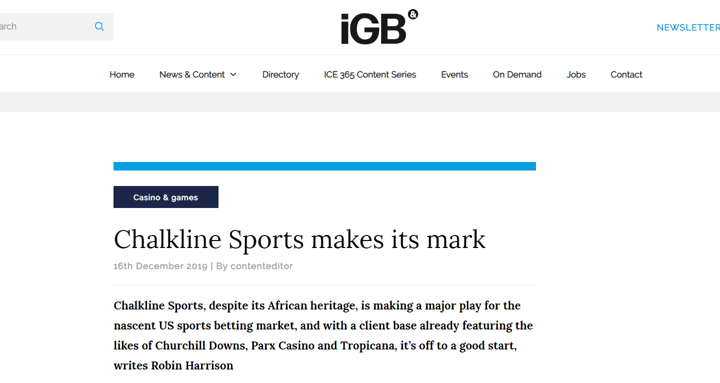 Earlier this week, Chalkline Sports was featured in iGaming Business as one of the up-and-coming players in the growing US sports betting market.
The article focused on Chalkline's history, including the company's American and South African roots. 
iGaming Business also highlighted Chalkline's impressive client list, which is full of big-name sports and wagering companies such as Barstool Sports, Churchill Downs, and Tropicana.
How Chalkline Is Taking on the US Sports Betting Market
While Chalkline's operations and founding team are based in Tennessee, it also has deep international connections.
South African-based betting firms Voltbet and Sun International were part of Chalkline's early history, and its current development team (including CTO Jason Foster) works out of South Africa.
But despite its global presence, Chalkline is focused on penetrating the emerging sports betting market in the United States. 
"In developing markets, you have this mass of sports fans that may not have placed their first bet," said Jason. "They may have bet via retail channels but never online. We offer a way to acquire those players through free-to-play games and real-money products, for which we have two clients live."
In particular, Chalkline's free-to-play games have helped companies like Barstool Sports attract new bettors to their platforms.
In Barstool's case, the results were immediate, with the company accepting 80,000 bets on a recent Thursday night NFL game.
What's Next for Chalkline?
As more states legalize sports betting, Chalkline's free-to-play and real-money solutions are becoming an important tool for betting operators to bring in and retain new customers.
Chalkline also allows betting operators to analyze bettor behavior through its BettorBI offering, which gathers customer data and provides actionable insights to support more profitable business decisions.
In addition to its turnkey solutions, Chalkline offers a software development kit, which third-party developers can use to build their own sports betting games.
Connect with Chalkline 
Read the full press article from iGaming Business.
You can also browse all of the webinars in 'The Operator's Edge' series.
Set up a live conversation with Daniel to discuss how Chalkline can help your sportsbook attract new bettors and increase profits.
Learn more about Chalkline's free-to-play games.