Chalkline's free-to-play games and loyalty marketing drive exceptional results for casinos, sportsbooks, and affiliates
Who We Are and What We Do
At Chalkine, we create free-to-play games that fans love, driving player acquisition and engagement.
Our work with casinos, sportsbooks, and affiliates improves player databases, leading to better outcomes for our clients.
Check out our game types here.
1. Driving Bettor Engagement for Action Network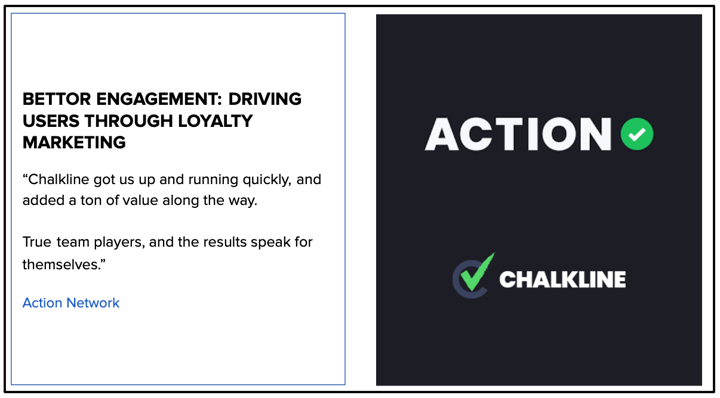 Chalkline's customer acquisition and retention platform helped Action Network promote their $100,000 Pro Football Pick 'Em Challenge to their players.
"Chalkline got us up and running quickly, and added a ton of value along the way. 
True team players, and the results speak for themselves."
2. Launching Tampa Bay Downs in 10 Days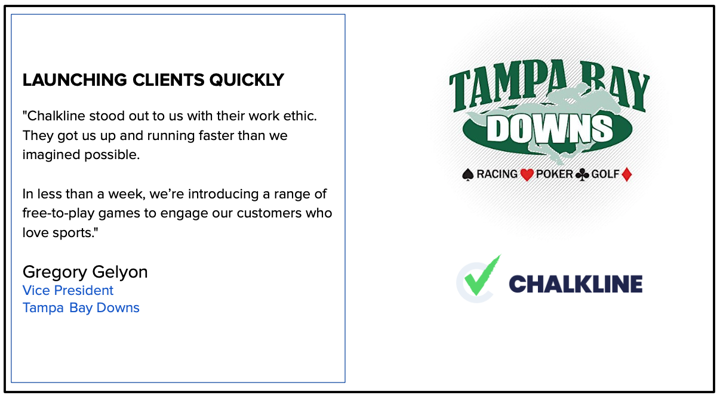 Chalkline developed free-to-play games across multiple sports for Tampa Bay Downs within days of signing the contract.
"Chalkline stood out to us with their work ethic. They got us up and running faster than we imagined possible.
In less than a week, we're introducing a range of free-to-play games to engage our customers who love sports."
-Gregory Gelyon, Vice-President
3. Building Localized Games for Prairie Band Casino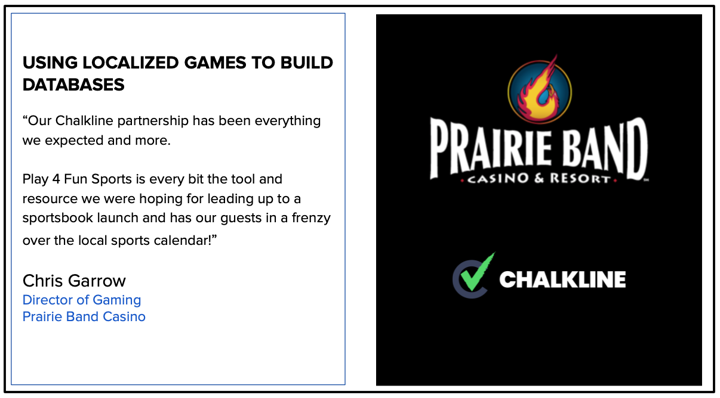 Tapping into a local passion for the Chiefs, Jayhawks, and more, Chalkline created F2P games that were built for the loyalty of the local fanbase.
"Our Chalkline partnership has been everything we expected and more.
Play 4 Fun Sports is every bit the tool and resource we were hoping for leading up to a sportsbook launch and has our guests in a frenzy over the local sports calendar!"
-Chris Garrow, Director of Gaming
4. Powering World Series of Poker Contest for pokerGO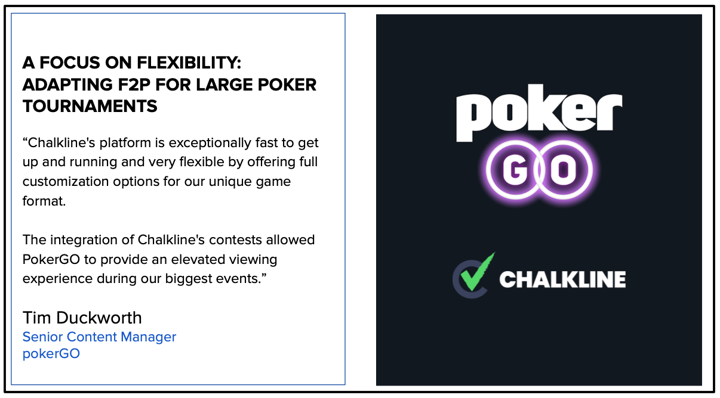 Chalkline catered the typical F2P model to fit the exact needs of some of the largest poker tournaments, driving engagement with poker fans who played the games.
"Chalkline's platform is exceptionally fast to get up and running and very flexible by offering full customization options for our unique game format. 
The integration of Chalkline's contests allowed PokerGO to provide an elevated viewing experience during our biggest events."
-Tim Duckworth, Senior Content Manager
5. Running Annual $1,000,000 Jackpot Games for TwinSpires
For 5 years, Chalkline has worked with TwinSpires to run a massive Jackpot game during the biggest racing weekend of the year.
"The team's knowledge and experience in sports betting marketing really drives results."
-Sports Betting Acquisition Manager
6. Integrating Easily with Mobile Apps from Sightline and JOINGO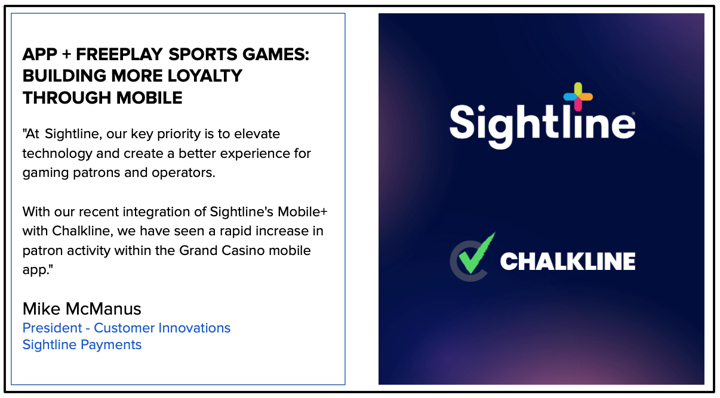 Chalkline created free-to-play games that would be accessible from Sightline's mobile network, creating a new touchpoint for fan engagement.
"With our recent integration of Sightline's Mobile+ with Chalkline, we have seen a rapid increase in patron activity within the Grand Casino mobile app." 
-Mike McManus, President of Customer Innovations
Want to Learn More?
Contact Chalkline to learn how fan engagement games and Loyalty Marketing can drive your next sports promotion.