Rocha brings over two decades of industry leadership to North America's largest free-to-play sports games provider.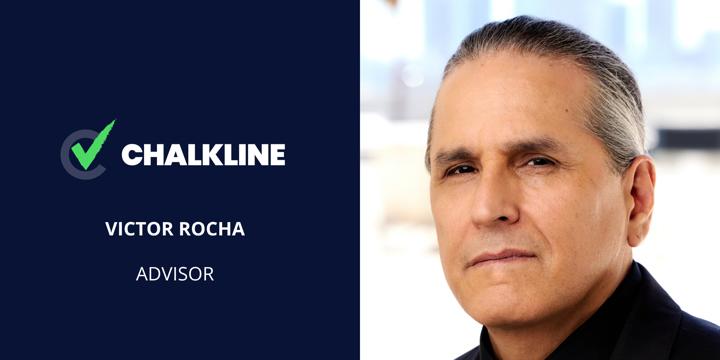 Nashville, TN - August 22, 2023
Chalkline, North America's leading B2B customer acquisition and retention platform for freeplay sports games and player database growth, announced today that Victor Rocha is joining the company as a strategic advisor.  
Rocha serves as Conference Chairman for the Indian Gaming Association (IGA) and leads Victor Strategies, a consulting firm providing expert advisory services and insights to the gaming industry with a particular focus on Indian Country. As the owner and publisher of Pechanga.net, he has been deeply engaged in the political landscape of U.S. tribal gaming since 1998.
Daniel Kustelski, co-founder and CEO at Chalkline:
"Victor has his finger on the pulse of the evolving gaming industry and has been a positive agent of change during the course of his career. His extensive experience will help shape our path forward," Chalkline CEO Daniel Kustelski said. "We're honored to have Victor's input as we push forward with our loyalty marketing platform and player intelligence platform."
Rocha has earned numerous awards for his work, including the National Indian Gaming Association's 2002 Outstanding Contribution to Indian Country, VCAT's 2001 Catalyst Award, Global Gaming Business Magazine's "40 Under 40," the 2012 Casino Marketing Lifetime Achievement Award, & the AGA's Lifetime Achievement for Gaming Marketing.
Victor Rocha, new advisor to Chalkline:
"Joining the team at Chalkline during this transformational phase in industry is a perfect fit," Rocha said. "I'm impressed with Daniel and the team, as well as their platform's ability to deliver personalized games and unique live and retail fan experiences. Driving value for tribal enterprises and empowering casino marketing departments to further engage sports fans on mobile makes perfect sense to me." 
About Chalkline
Chalkline is a full-service customer acquisition and loyalty marketing platform. Chalkline BettorGames™ technology delivers personalized, fully-hosted and mobile-first sports prediction games at scale. The company's BettorBI™ suite collects player-level data that informs faster, smarter, more profitable business decisions. Chalkline's growing client base includes leading casinos, sportsbooks, affiliates, and media clients. With offices in Nashville, London and Johannesburg, Chalkline has delivered 70,000+ unique games to 2M+ players globally. To learn more, visit chalklinesports.com.
For Media Inquiries
Joe Kustelski
+1.615.772.6196