Chalkline CEO Daniel Kustelski recently caught up with Hypepotamus to talk about how freeplay games are driving sports betting customer acquisition in the United States. You can read the complete article right here.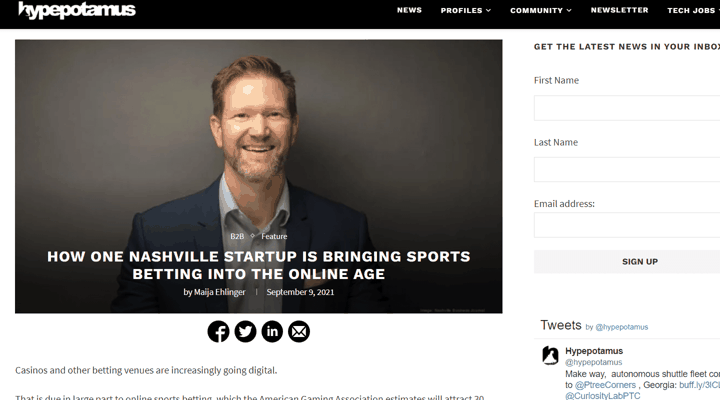 It's been a big year for betting operators and sports fans, with more states moving toward regulated sports betting. It's also been a milestone year for Chalkline, which recently secured $2.7 million in Series A funding.
This week, Chalkline CEO Daniel Kustelski joined Hypepotamus to talk about these exciting updates and discuss the role of freeplay in sports betting customer acquisition. Here are some highlights from the interview.
Why Freeplay?
As legalized sports betting continues to gain momentum around the country, operators are facing increased pressure to acquire customers in regulated and soon-to-be regulated markets.
To cut through the noise, many operators and media affiliates are using freeplay games to attract new players and introduce them to the basics of betting.
"Our media company partners are looking to monetize their customer base via their own sportsbooks, and through our freeplay games, they can educate and acclimate sports fans about how betting works," Daniel said.
Similarly, freeplay games are helping traditional betting companies (like casinos and sportsbooks) shift from in-person to online gaming.
"Our casino and sportsbook partners are working hard to transition customers from retail to online, and from other casino products to betting, and our games help them to do that, too," he added.
Using Freeplay Games in Soon-to-Be Regulated Markets
In regulated markets, operators often use freeplay games as a low-stakes way for sports fans to engage with their favorite teams -- with the eventual goal of converting them into paying customers.
But as Daniel told Hypepotamus, freeplay games are also useful in not-yet-legal markets.
"In fact, [our games] are particularly effective in states that have yet to regulate because they help operators to engage, educate and acclimate players to online and mobile sports betting, so they are primed and ready to convert to real money bettors when the law enables them to do so," he said.
For operators, this means that now is the time to incorporate freeplay into your acquisition strategy -- whether your state is regulated or not.
Connect with Chalkline
Read the full article for more insights on freeplay and the future of sports betting in the US.
You can also browse all of the webinars in Chalkline's 'The Operator's Edge' series.
Set up a live conversation with Daniel to discuss how Chalkline can help your sportsbook attract new bettors and increase profits.
Learn more about Chalkline's free-to-play games.