As announced on May 17, 2021, Chalkline and Metabet have launched a product partnership to help media companies and operators strengthen their sports betting acquisition and retention strategies. You can read the complete story in SBC Americas right here.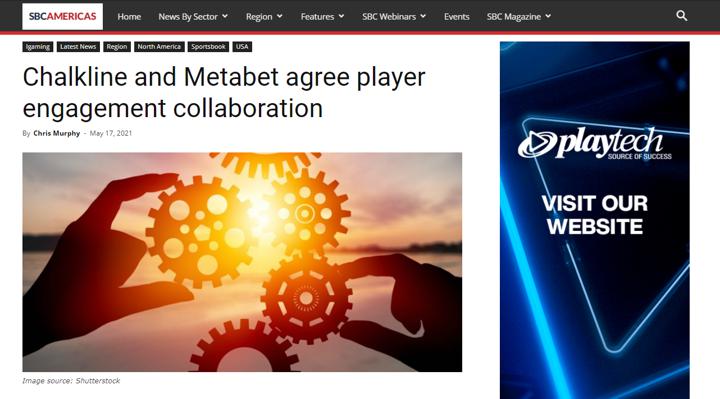 Today, Chalkline announced a new partnership with Metabet, a New York-based software supplier that allows publishers to integrate live betting odds into their online content.
Mutual clients of the companies will benefit from Metabet's contextual content tools, which offer audiences a seamless transition from sports-focused content to sports betting, as well as Chalkline's freeplay acquisition games, which help attract and engage new players.
The Chalkline-Metabet partnership was announced on May 17, coinciding with Chalkline's fifth birthday.
"As Chalkline turns five today, I can say that sports betting and iGaming in the United States are at the most exciting point that we've seen," said Daniel Kustelski, CEO of Chalkline. 
"We're excited to work with the team at MetaBet--they fundamentally understand the opportunity ahead and have a terrific and complimentary product platform for operators and media companies alike."
How Companies Like the Chive Media Group Benefit from the Partnership
As a client of both Chalkline and Metabet, the Chive Media Group is already experiencing the perks of the partnership.
With the Metabet integration, fans of the Chive's online content can get live odds and place bets on their favorite teams -- all from within the article they're reading.
Or if they aren't ready to place a real money bet, they can instead engage through the Chive's freeplay platform, powered by Chalkline.
"As MetaBet helps companies integrate betting-related products, we continually are looking to implement tools that will drive audience engagement and interaction," said Benn Gurton, Managing Director of MetaBet. 
"Partnering with Chalkline's scalable freeplay games adds another dimension to the value we deliver for media clients and operators."
Connect with Chalkline
Read the full story for more details about the partnership and how it will benefit media companies and operators focused on customer acquisition and retention.
You can also see any webinar replays in Chalkline's 'The Operator's Edge' series.
Set up a live conversation with Daniel to discuss how Chalkline can help your sportsbook attract new bettors and increase profits.
Learn more about Chalkline's free-to-play games.