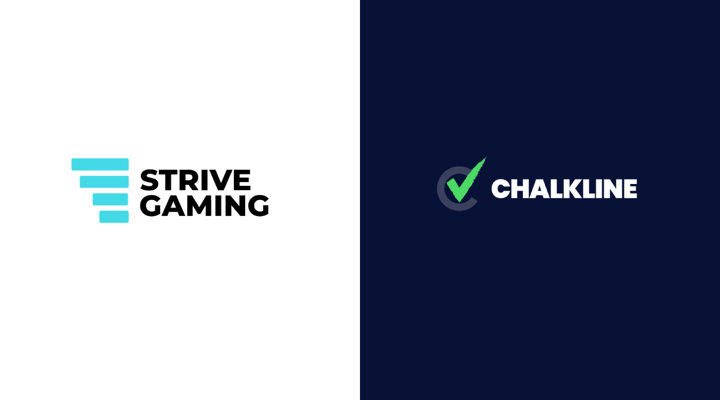 Today, Strive Gaming has announced a partnership with Chalkline Sports to deliver best-in-class customer acquisition and retention prediction games for U.S. sports betting and casino operators.
Vancouver, Canada  -- October 7, 2022
Partnership Overview
Strive Gaming, an advanced player account management (PAM) platform designed for the multi-state requirements of online operators in the North American market, today announced a new partnership with Chalkline Sports, the leading North American customer acquisition and retention sports game provider. 
The new partnership will be the entry point for Strive Gaming into free play games, allowing customers to easily deploy a turnkey free-to-play acquisition and retention tool. Freeplay sports games educate and acclimate new players to sports betting, and deliver consistently high marketing ROI for casinos rolling out sports promotions.
Strive Gaming's integration with Chalkline will build rich, permission-based, behavioral data sets about game players' favorite teams, favorite markets and betting level.
Max Meltzer, Strive Gaming CEO, said:
"We know from our executive team's experience: customer acquisition and retention are the biggest challenges for operators in the North American market, and this partnership addresses this opportunity head-on. 
Chalkline's localized and personalized live-odds freeplay sports prediction games engage fans around every sport, and focus on localization and personalization, which are two of the strongest features of the Strive Gaming platform."
Daniel Kustelski, Chalkline Sports CEO, said:
"Strive Gaming is one of the leading B2B platform businesses in the US and Canada with knowledgeable executives, an experienced team and great technology. Their vision aligns very well with our own, and we believe this collaboration will deliver a ton of value in North America's rapidly growing market." 
About Strive Gaming
Strive Gaming delivers operator performance at scale and is the first iGaming platform business specifically set up to satisfy the modern, multi-state requirements of North American operators.  Strive Gaming is bringing to market a leading technology PAM, with a unique value driver in its infinity rules engine and counts Desert Diamond and Golden Nugget (a DraftKings company) as clients. Strive Gaming arrives to the market without technology debt, a 100% focus on the North American market and a dedicated team and operation that is ready for the market and its first partners. Strive Gaming is licensed in Colorado, Arizona, Ontario and has also received a GLI-33 certification and was recently awarded a Temporary Vendor Major License. Strive Gaming has offices in Vancouver, UK, Malta and Las Vegas. To learn more, visit https://www.strivegaming.com. 
About Chalkline
Chalkline is a full-service customer acquisition and retention platform. Chalkline BettorGames™ technology delivers personalized, fully-hosted and mobile-first sports prediction games at scale. The company's BettorBI™ suite collects user-level data that informs faster, smarter, more profitable business decisions. Chalkline's growing client base includes leading casinos, sportsbooks, affiliates, and media clients. With offices in Nashville, London and Johannesburg, Chalkline has delivered 35,000+ unique games to 12M+ players globally. To learn more, visit chalklinesports.com.
For Media Inquiries
Sarah Blackburn
GameOn