Chalkline CEO Daniel Kustelski recently wrote a column for Gaming for Africa that discusses the current challenges and opportunities facing operators in the African market. You can read the complete article right here.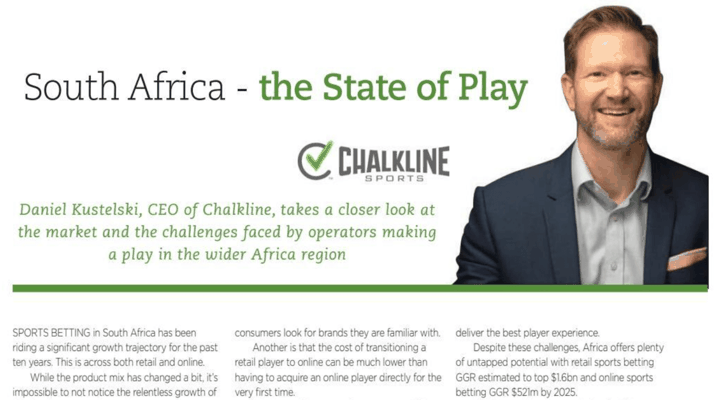 Right now, we're seeing an incredible amount of untapped potential in the African online gaming market.
Operators that embraced mobile and digital strategies early are already reaping the benefits, and even traditional retail operators have started establishing their online presence. 
Like other burgeoning markets, competition in Africa is getting tougher by the day. However, there's still plenty of opportunity for operators looking to expand or break into the African market.
Current State of Online Gaming in Africa
Before we discuss the potential for operators in Africa, it's important to understand the current conditions and challenges in this unique market.
For instance, while retail betting remains a dominant force, its role within the gaming landscape has changed. These days, many operators are using retail as an acquisition vehicle before ultimately transitioning players online.
It's a big reason why the top African online gaming companies maintain a big retail presence. Plus, converting a player from retail to online is far more cost-effective than online-only acquisition.
In addition to the retail vs. online situation, there are a few other complexities in the African market.
For example, parts of the continent experience frequent power outages. Unfortunately, these outages can halt retail and online gaming, leading to a frustrating customer experience.
Payments are another challenge. Mobile money is central to the African betting market, so operators must accept these payments to attract customers.
Finally, gaming laws are constantly changing across Africa. As a result, operators need to establish a local strategy for each market and review their approach as legislation changes.
How Operators Are Finding Success in the African Market
Despite these challenges, the future of gaming in Africa is promising. By 2025, retail sports betting GGR is expected to reach $1.6bn, with online sports betting GGR predicted to hit $521m.
To bring in new customers, operators rely on a diverse set of acquisition tools -- including bonusing, marketing, and offering different types of gambling (such as fixed-odds numbers and virtual sports).
For all operators in Africa, having a solid online presence and a digital marketing strategy is key to unlocking more revenue.
Even retail operators need an online product that gives customers the option to place a wager whenever is convenient for them -- whether through free-to-play or real money games.
Connect with Chalkline
Read the full article to learn more about winning strategies in the African gaming market.
You can also browse all of the webinars in Chalkline's 'The Operator's Edge' series.
Set up a live conversation with Daniel to discuss how Chalkline can help your sportsbook attract new bettors and increase profits.
Learn more about Chalkline's free-to-play games.