Freeplay Contest Offers Racing Fans the Chance to Win $100,000 on the first Leg of the Triple Crown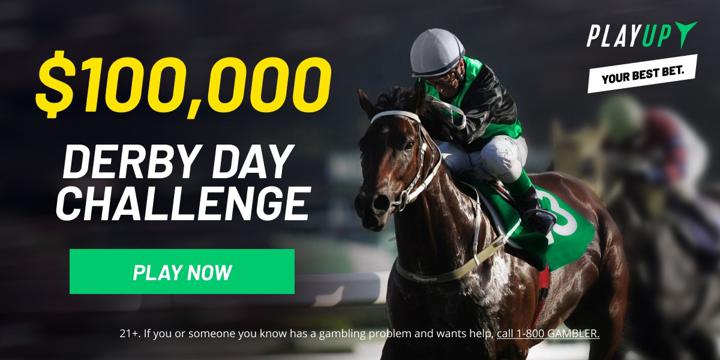 NASHVILLE, Tenn., May 5, 2022 -- Chalkline has partnered with PlayUp to power the $100,000 Derby Day Freeplay Challenge. 
The PlayUp Derby Day Challenge delivers a chance to play along with the biggest racing day of the year on Saturday, May 7th. 
Players who enter are challenged to predict the top five finishers in order, as well as the winning margin, margin between first and last place, and a head-to-head matchup. 
A perfect card will win the $100,000 grand prize, and if there is more than one perfect slate, the winners will split the prize evenly. 
As an added bonus, a $10 PlayUp Racebook Free Bet will be awarded to all players who have the winning horse anywhere in their top five selections. The PlayUp Derby Day Challenge is free to enter for US residents over 21 years of age.
Visit the PlayUp site to enter the contest.
Michael Dempsey, PlayUp Horse Racing Product Manager, said, "With a 20-horse field, this race is the Holy Grail of handicapping for horseplayers. There is no bigger challenge than predicting how this race will turn out and could pay off big time for a lucky player. We hope to see a $100,000 winner!  And having five chances to pick just the winner and get a free $10 is a great consolation prize."
Daniel Kustelski, CEO of Chalkline, said, "The first leg of the Triple Crown is a huge day for racing fans around the world. Chalkline is thrilled to power the $100,000 PlayUp Derby Day Challenge and deliver an exciting chance for racing fans to win big."
For new racing players, PlayUp Racebook is offering new players a 50% deposit bonus up to $250. Sign up here to take advantage of this promotional offer. 
ABOUT PLAYUP
PlayUp is a next generation entertainment and technology group that enriches the lives of its clients by providing an entertaining, rewarding and responsible online betting service. At its core, PlayUp develops innovative betting technologies in-house to power its brands and deliver world-class user experiences. Its energies are focused on fulfilling the needs of dedicated and passionate users who seek a deeper connection to the games they play. The company holds online betting licenses in multiple jurisdictions and currently operates in Australia, New Zealand, India and several regulated USA states. 
ABOUT CHALKLINE
Chalkline, formerly Chalkline Sports, is a full-service sports betting growth platform. Chalkline's "BettorGames" platform delivers personalized, fully-hosted and mobile-first games at scale, including their new LIVE, Retail & VIP games. The company's proprietary BettorBI informs faster, smarter, more profitable business decisions. Chalkline's growing client base includes leading casinos, sportsbooks, affiliates and media clients. With offices in Nashville, London and Johannesburg, Chalkline has delivered 28,000+ unique games to 10M+ players globally. To learn more, visit chalklinesports.com.
For media inquiries:
PlayUp
Kevin Smith
Chief Marketing Officer, PlayUp
Chalkline
Joe Kustelski
+1.615.772.6196