Chalkline CEO Daniel Kustelski recently authored an article for EGR's Conversion Corner series, focusing on the success that Michigan has seen since legalized online sports betting and iGaming took effect earlier this year. You can read the full article here.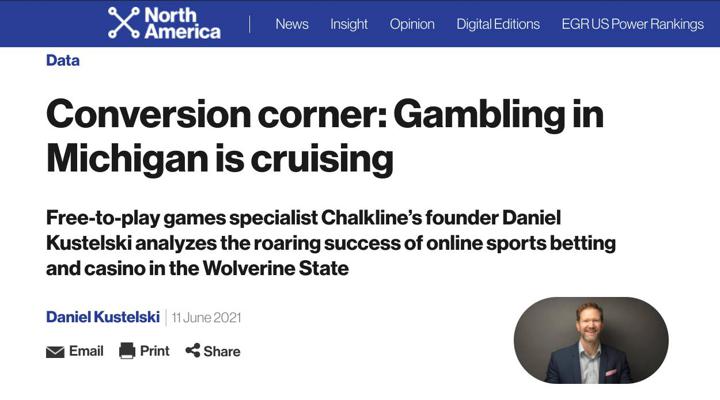 In January 2021, online sports betting and gambling became legal in Michigan.
Despite the state already having legal online horse racing and retail sports wagering, the introduction of these new verticals has made an enormous splash.
Within the first 10 days of legalization, online betting operators in Michigan accepted $115 million in digital bets alone -- nearly the same amount that retail operators took in over the previous 12 months.
Clearly, online sports betting and gambling are a hit in the Wolverine State.
So what made it successful?
Michiganders Were Already Familiar with Sports Betting and Real Money Games
As we've covered, retail betting was already available in Michigan when online gambling came into effect, but there were also several other legal ways for people to gamble.
After state officials legalized online horse wagering in 2020, TVG (FanDuel) and TwinSpires accepted more than $35 million in bets on the ponies.
Online lottery was legalized in Michigan in 2018 and has gained a significant following since then, thanks (in part) to a state lottery affiliate program.
Finally, daily fantasy sports are also popular across the state, earning operators a combined $16m in 2020.
With all of these verticals already in place, it's no surprise that Michiganders quickly embraced online sports betting and casino.
Many were already familiar with basic wagering concepts and were eager to back their favorite teams and players from their smartphone.
Operators Were Ready to Launch As Soon As Markets Opened
On a similar note, another reason for the successful roll-out in Michigan is because there was a diverse range of operators prepared to go live as soon as they were legally allowed.
When online sports betting and casino launched, there were 10 operators ready to serve gamblers in the Wolverine State. Compare that to the market in Tennessee, which opened in November 2020 with just four operators.
Even before legalization took effect, operators were competing to land sponsorships with teams across Michigan.
We've seen several high-profile deals with the state's largest professional sports teams -- resulting in incredible exposure for brands like PointsBet, BetMGM, FanDuel, and many more.
It's a good sign for things to come, especially as the state heads into its first football season with legalized online sports betting.
What About Online Casino? 
There's a lot of focus on the sports betting component of the launch, but it should be said that online casino is the real stand-out in Michigan right now.
In fact, with $300m in gross gaming revenue (GGR) so far, online casino is generating four times the amount that's coming in from sports betting.
Golden Nugget is one operator that's definitely pleased with the results they're seeing in Michigan. 
In less than two months, the operator acquired 11,700+ new active depositors. In contrast, it took almost two-and-a-half years to reach that number in New Jersey.
Connect with Chalkline
Read the full article for more data and insights about the successful launch of online sports betting and casino in Michigan.
You can also browse all of the webinars in Chalkline's 'The Operator's Edge' series.
Set up a live conversation with Daniel to discuss how Chalkline can help your sportsbook attract new bettors and increase profits.
Learn more about Chalkline's free-to-play games.