This week, Chalkline Co-Founder Joe Kustelski spoke with Gambling Insider about why betting operators and media companies make great partners. Here's a recap of top takeaways. You can read the complete article right here.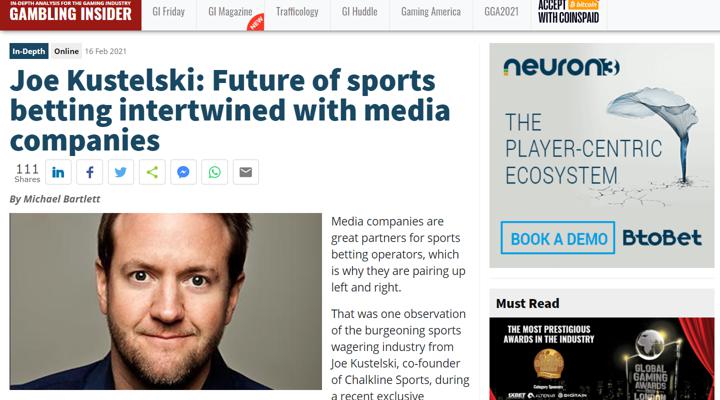 Earlier this month, Chalkline Sports co-founder Joe Kustelski spoke with Gambling Insider to share his thoughts on why sports betting operators and media companies are a natural fit. 
In the interview, Joe talked about the recent growth of sports betting in the United States as more states begin to legalize it.
There are a handful of reasons that sports betting is taking hold right now, but it's largely thanks to a more relaxed attitude toward gambling in general, said Joe.
Media Companies and Betting Operators: A Smart Match
Naturally, this increasing cultural interest in sports betting has attracted the attention of media organizations.
Media companies saw an opportunity to partner with betting operators to offer live sports and betting together, which helps pull in new audiences.
Similarly, sports betting brands viewed these partnerships to get their name in front of large audiences and register new bettors.
Joe mentioned that in Europe, betting operators often pair up with soccer teams to encourage fans to wager on their favorite organization. These types of tactics have proven effective in acquiring new bettors, and we're just seeing the beginning of it in the U.S.
"We will continue to see regional sports networks form partnerships until everyone has a partner. We have not reached the saturation point yet," said Joe. "We will continue to see more of these partnerships and more live sports content paired with betting lines leading to free-to-play games and, eventually, betting."
How Betting Operators Can Benefit
With sports betting becoming more mainstream, operators are trying to find ways to attract new customers to their platforms. That's where Chalkline Sports comes in.
Founded in 2016, Chalkline works with legal betting organizations to draw in potential bettors and make them more profitable.
By offering free-to-play and real money games, Chalkline creates personalized and mobile-centric gaming experiences in markets where legal sports betting is growing but underserved (such as North America and Africa).
Connect with Chalkline 
Read the full article to find the full interview with Gambling Insider.
You can also browse all of the webinars in 'The Operator's Edge' series.
Set up a live conversation with Chalkline CEO and Co-Founder Daniel Kustelski to discuss how Chalkline can help your sportsbook attract new bettors and increase profits.
Learn more about Chalkline's free-to-play games.