This week, Chalkline CEO Daniel Kustelski spoke with Legal Sports Report to share his thoughts on the competitive sports betting market in Washington DC. Here's a recap of top takeaways. You can read the complete article right here.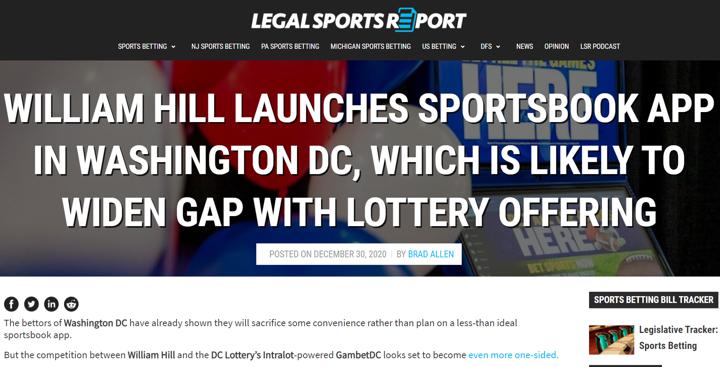 There's been a sports betting rivalry brewing in Washington, D.C. over the past few years, as the DC Lottery-powered GambetDC platform takes on the long-standing betting operator William Hill.
A recent article from Legal Sports Report looks at the advantage William Hill holds over its newly established competitor -- and why the divide is only growing bigger.
Last month, the UK-based company took in $13.7 million in bets through its Capital One Arena sportsbook, while GambetDC took in $3.9 million.
Now, William Hill is looking to double down on its dominance over GambetDC by offering mobile betting for anyone within a two-block radius of Capital One Arena.
Plus, the company also announced its plans to expand its physical betting operations within the venue. 
William Hill and GambetDC: Key Differences
First, it's important to point out the price difference between these two betting operators.
As mentioned in the Legal Sports Report article, William Hill generally charges -110 on straight bets, while GambetDC sticks around -118.
However, industry insiders are quick to mention that price isn't everything when choosing a sportsbook.
Most bettors look for factors like ease-of-use and betting bonuses and won't be deterred if an otherwise appealing sportsbook has a slightly less favorable price.
Legal Sports Report asked Chalkline CEO and Co-Founder Daniel Kustelski to share his thoughts on the situation and whether or not price is a significant factor in the US market.
"US-betting Twitter cares about price, but that customer cohort is probably 0.1% of any book," Daniel said. "If price always mattered, people would only buy at Walmart and eat no-name brand Corn Flakes."
Building a Betting Operation That Attracts and Engages Customers
At Chalkline, we cultivate personalized, mobile-first betting communities that deliver highly engaged customers to betting operators.
Our company was founded in 2016 to help sportsbooks tackle their biggest challenge: acquiring and retaining new customers.
Chalkline's free-to-play games have helped companies like Barstool Sports, Churchill Downs, and NESN build their database and convert sports fans into real-money bettors.
Connect with Chalkline 
Read the full article to learn more about the current sports betting situation in D.C.
You can also browse all of the webinars in 'The Operator's Edge' series.
Set up a live conversation with Daniel to discuss how Chalkline can help your sportsbook attract new bettors and increase profits.
Learn more about Chalkline's free-to-play games.