Chalkline and Covers have teamed up to introduce "Covers Freeplay," a series of live-odds prediction games powered by Chalkline. You can read the full announcement right here.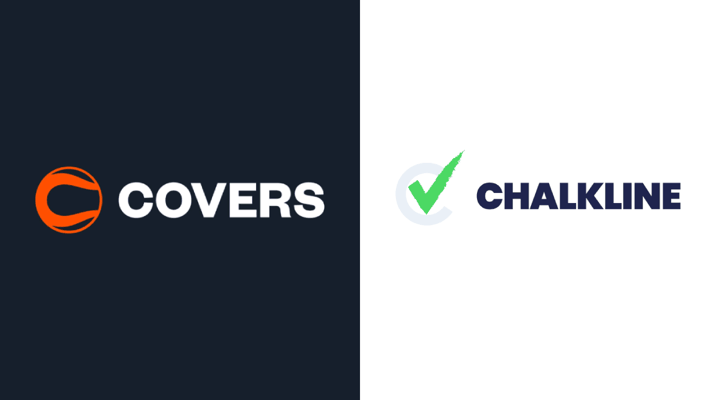 This week, Chalkline announced a new partnership with Covers, one of the largest and most trusted online sources for sports betting information.
As part of the partnership, Chalkline will power "Covers Freeplay," a series of live-odds, free-to-play pick'em and prop contests designed to drive acquisition and retention for Covers.
"Covers is one of the most well-known and respected brands in the sports betting content space," said Daniel Kustelski, co-founder and CEO of Chalkline.
"We believe this partnership will help the Covers brand continue to differentiate itself and stand out in an increasingly competitive industry."
Covers and Chalkline: Driving Acquisition and Retention Through Freeplay
Founded in 1995, Covers is a well-established sports betting brand that's trusted by 20 million users annually -- a number that's only increasing as more jurisdictions legalize sports betting.
Over the past year, Covers has experienced unprecedented growth and wanted to maintain the momentum by adding a freeplay product to its offering.
Together with Chalkline, the company created Covers Freeplay, a suite of live-odds prediction games that gives players the chance to win cash prizes or Covers swag.
"As sports betting regulation sweeps across North America, Covers has doubled in size in the past 12 months. Simply put: leveling up our gaming and business intelligence capabilities is a natural progression in our company's growth," said Andrew Garven, Head of Marketing at Covers.
"This is part of our path to continuously improve bettor engagement with more localization, more personalization and more education as the market evolves."
With Covers Freeplay, Covers gained an effective acquisition and engagement tool, as well as a best-in-class predictive analytics and personalization platform.
Connect with Chalkline
Read the full media release for more details about the partnership and the launch of Covers Freeplay.
You can also browse all of the webinars in Chalkline's 'The Operator's Edge' series.
Set up a live conversation with Daniel to discuss how Chalkline can help your sportsbook attract new bettors and increase profits.
Learn more about Chalkline's free-to-play games.