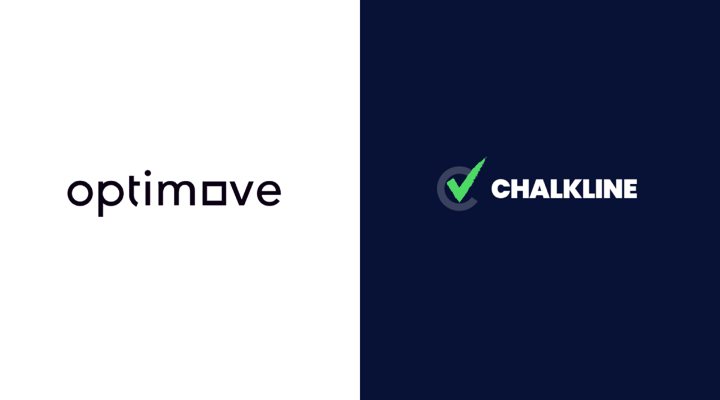 Nashville, TN – December 1, 2022
About the Partnership
Today, Chalkline has announced a partnership with Optimove, the leading CRM Marketing solution for iGaming, to deepen conversion and retention metrics for freeplay sports games.
As the central part of the partnership, Chalkline will be flowing permission-based marketing data into the Optimove system for use in hyper-personalized messaging, enhanced attribution and in-depth customer insights. 
With the new partnership, Chalkline's operator portfolio gains access to enriched customer profiles, multichannel orchestration, accurate marketing attribution, and personalization at scale. Chalkline operators can now engage individual players in real-time with hyper-personalized messages and offers across any channel, boosting retention and player lifetime value.
Players, both new and returning, all have favorite sports, teams and players. As sports betting and iGaming grows throughout North America, operators are using Optimove to employ a customer-led approach to marketing that starts with player preferences. 
Chalkline's unique technology delivers sports prediction games on demand--for a player's favorite team or sport, and builds a permission-based engagement with players. The data gathered from freeplay games will immediately inform better marketing decisions, powered by Optimove.
Dan De Souza, Director of Partnerships at Optimove: 
"As operators and US players continue to face economic uncertainty, customer-led marketing remains the best way to meet that challenge. Placing the player at the heart of every marketing action builds long-term relationships with players and gains their loyalty for life.
As we continue to expand in North America, we are proud to partner with Chalkline and offer our tried and tested multichannel CRM Marketing suite to their operator portfolio."
Daniel Kustelski, Chalkline CEO & Co-founder, said:
"We're thrilled to enter this partnership with Optimove. This will immediately make our massive data set of first party data more immediately actionable for operators.
U.S. sports fans, especially casual bettors, are embracing sports prediction games in rapidly growing numbers, and operators will improve acquisition and retention rates with this seamless integration."
About Optimove
Optimove is the first customer-led marketing platform. Its solutions ensure that marketing always starts with the customer instead of a campaign or product. Customer-led marketing has been proven to deliver brands an average increase of 33% in customer lifetime value. It is the only customer-led marketing platform powered by the combination of 1) rich historical, real-time, and predictive customer data, 2) AI-led multi-channel journey orchestration, and 3) statistically credible multi-touch attribution of every marketing action. Optimove provides industry-specific and use-case solutions for hundreds of leading consumer brands including bet365, BetMGM, Entain, Sisal, Fortuna, Golden Nugget, and Pennsylvania Lottery. For more information, go to Optimove.com.
About Chalkline
Chalkline is a full-service customer acquisition and retention platform. Chalkline BettorGames™ technology delivers personalized, fully-hosted and mobile-first sports prediction games at scale. The company's BettorBI™ suite analyzes user-level data that informs faster, smarter, more profitable business decisions. Chalkline's growing client base includes leading casinos, sportsbooks, affiliates, and media clients. With offices in Nashville, London and Johannesburg, Chalkline has delivered 48,000+ unique games to 12M+ players globally. To learn more, visit ChalklineSports.com.