This week, Chalkline announced a partnership with OfficePools.com to debut a new free-to-play platform for Canadian bettors. Here's a recap of top takeaways from the partnership. You can read the complete announcement right here.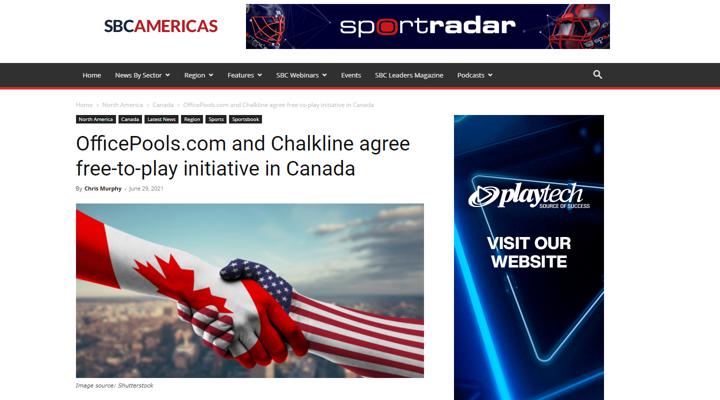 With the recent passing of Bill C-218, Canadian betting operators and sports companies have started creating their strategies for attracting and engaging new bettors.
As one of these companies, OfficePools.com, a Canadian software supplier of community sports games, has teamed up with Chalkline to power its new free-to-play sports betting platform called OfficePoolsBets.com.
Right now, players can visit the Chalkline-powered OfficePoolsBets.com platform to predict the outcomes of upcoming games and events (including the NHL and NBA playoffs), view leaderboard scores, and win prizes.
Chalkline and OfficePools.com: Looking Ahead to Regulated Sports Betting in Canada
The deal between these two companies represents an exciting step toward entering legalized sports betting together, according to Graham Lee, President and CEO at GSL Holdings Ltd, the owner and operator of OfficePools.com.
"OfficePools.com sees the legalization of sports betting in Canada as a positive development for sports fans across the provinces," he said.
"This free-to-play partnership expands on our existing platform of engagement and educational tools, and Chalkline is the perfect partner to grow into a regulated sports betting environment with."
From Chalkline's perspective, the partnership offers the chance to bring free-to-play games to a new sector of highly engaged sports bettors.
"Graham and the team at OfficePools.com are part of the fabric of what it means to be a sports fan in Canada," said Daniel Kustelski, CEO of Chalkline.
"We're ecstatic to partner with the leading community fan site, and to leverage our shared vision and products to deliver fun and education to their passionate audience."
Connect with Chalkline
Read the full article for additional information about the new platform and partnership.
You can also browse all of the webinars in Chalkline's 'The Operator's Edge' series.
Set up a live conversation with Daniel to discuss how Chalkline can help your sportsbook attract new bettors and increase profits.
Learn more about Chalkline's free-to-play games.