This week, Chalkline CEO Daniel Kustelski was featured in the Nashville Business Journal to showcase his story as a veteran entrepreneur. Here's a recap of top takeaways. You can read the complete article right here.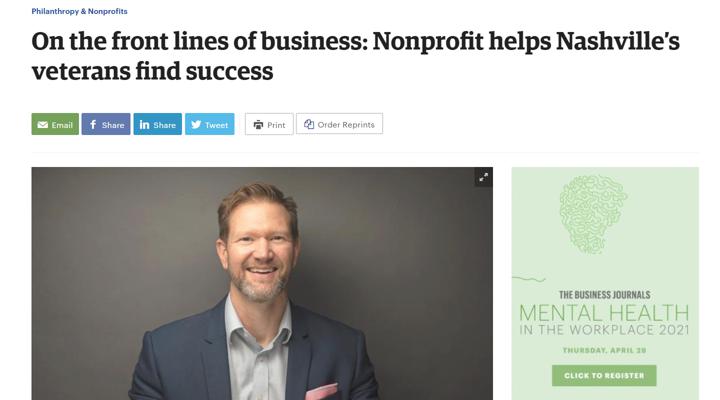 Chalkline Sports CEO Daniel Kustelski is featured in the Nashville Business Journal piece highlighting the stories of veteran entrepreneurs.
Chalkline Sports's continued growth since its founding in 2016 has been boosted by the help from Bunker Labs and the Veterans in Residence program.
Bunker Labs, a national non-profit organization, has made it its mission to support veteran entrepreneurs achieve their start-up goals.
The organization launched the Veterans in Residence program in ten cities across the U.S. on Veterans Day of 2017. 
The program has facilitated the success of veteran-led businesses by providing work spaces, networking opportunities, and other services.
Members are given the opportunity to connect with peers facing similar business challenges and opportunities.
Chalkline CEO Daniel Kustelski is one of many veterans who have benefited from the assistance from the Veterans in Residence program.
Daniel graduated from West Point in 1996 and served as a U.S. Army engineer officer for over five years.
After building a successful sports book in South Africa, Daniel returned to the United States in 2015 to start Chalkline Sports and joined the Veterans in Residence program in Nashville in 2017.
Through the program, Daniel has formed a network of like-minded veteran entrepreneurs who share the same work ethic, commitment, and ambitious mindset.
Looking forward, Chalkline Sports plans to rely on the resources offered by Bunker Labs as Chalkline expects to turn past success into continued growth.
Daniel stated, "It's been an honor to be a part of Bunker Labs in Nashville these past few years. I've made lasting relationships and will continue to be involved with their initiatives because I know they make a difference for veteran entrepreneurs."
Connect with Chalkline 
Read the full article to learn more Daniel and Chalkline Sports.
You can also browse all of the webinars in 'The Operator's Edge' series.
Set up a live conversation with Daniel to discuss how Chalkline can help your sportsbook attract new bettors and increase profits.
Learn more about Chalkline's free-to-play games.