This week, Chalkline Sports and Amelco announced a partnership to power Action247, a Tennessee-based sportsbook. Here are some quick highlights about the announcement. You can read the complete article right here.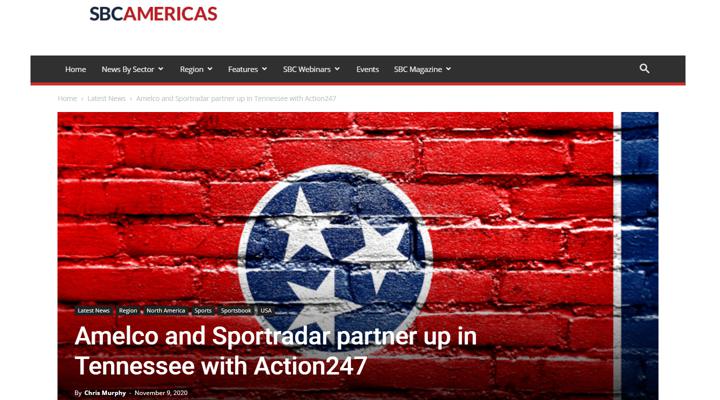 With sports betting now legal in Tennessee, some of the industry's biggest brands are beginning to launch operations in the Volunteer State. 
This week, Amelco and Chalkline Sports announced a partnership to power Action247, one of the first four sportsbooks to open in Tennessee.
The two companies will also work with Sportradar to help Action247 emerge as one of the country's leading sportsbooks.
Bringing Real Money and Free-to-Play Games to Tennesseans
Sports betting kicked off in Tennessee last week after being legalized in 2019. Not only did the launch generate excitement around the state, but it also sparked interest from bettors around the country.
Action247 is Tennessee-owned and operated but opted to partner with established betting technology firms (Amelco, Sportradar, and Chalkline) to power its platform. With Amelco's sports betting software, Sportradar's data analysis, and Chalkline's free-to-play catalog, Action247 is well-positioned to win with Tennessee bettors.
"We're really going from strength to strength stateside as more and more operators start to see our products in action," said Brandon Walker, Head of Business Development at Amelco.
"Partnering with Sportradar to go live in a newly-regulated US state is something we are very excited about, and with the addition of Chalkline's catalog, I'm confident we have a fantastic product ready for Action247 to take to its players."
Chalkline Changes the Game for Sportsbooks
Chalkline Sports was founded in 2016 to help betting operators overcome the challenge of driving new customers to their sportsbooks.
We create personalized, mobile-centric betting communities that acquire bettors and generate data-driven insights about their wagering habits.
Our solutions include free-to-play and real money games, which have helped sportsbooks across the country attract new customers and increase their profits.
Connect with Chalkline 
Read the full article to learn more about the partnership between Amelco and Chalkline Sports.
You can also browse all of the webinars in 'The Operator's Edge' series.
Set up a live conversation with Chalkline CEO and Co-Founder Daniel Kustelski to discuss how Chalkline can help your sportsbook attract new bettors and increase profits.
Learn more about Chalkline's free-to-play games.