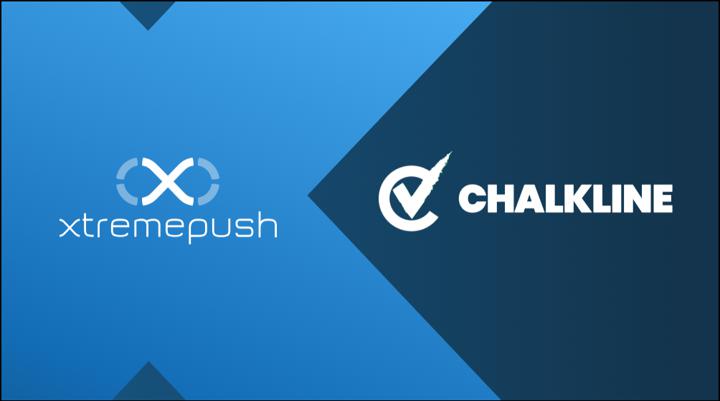 Nashville, TN – February 17, 2023
About the Partnership
Xtremepush, the leading customer engagement platform for player retention in the sports betting and gaming industry, has teamed up with Chalkline, North America's leading free-to-play sports prediction game platform, to provide operators and affiliates with a solution that combines hyper-personalized omni-channel messaging around live and pre-match prediction games. 
Chalkline's BettorGames technology empowers iGaming clients to build their database of new players and deepen relationships with existing players by delivering free-to-play engagement with real prizes while the real game on the fields is played. 
Xtremepush's proprietary platform enables clients to engage bettors with targeted content, including Chalkline games, across their preferred channels and at the time they are most likely to convert. 
The unique combination of Xtremepush and Chalkline's technical capabilities provides shared clients with a means of identifying and cultivating players with a high affinity for a particular sports, team or player with an eye towards improved bettor engagement, retention and increased lifetime value. 
Chalkline games can be distributed through all Xtremepush engagement channels across App, Web, Email and SMS as part of its multichannel marketing solution. 
Robbie Sexton, Director of Partnerships at Xtremepush, said: 
"We are absolutely delighted to have teamed up with Chalkline. Free-to-play games deliver the ability for operators and affiliates to scalably build permission-based marketing relationships with new players and expand relationships with existing players.
We see terrific alignment and opportunities as our products continue to evolve to serve the market."
Daniel Kustelski, CEO & Co-founder at Chalkline, said:
"Chalkline games produce masses of valuable first-party data, which Xtremepush can use to immediately deliver more content and offers that enhance the game experience for customers around their favorite teams and players."
About Xtremepush
Xtremepush is a world-leading customer engagement platform powered by a built-in CDP. It enables fast-growing companies to understand their customers and deliver personalized omni-channel communication through multiple built-in channels.  
It allows brands to acquire, grow, and retain their customers and communicate more effectively with existing players through automated, real-time, relevant messaging, increasing retention, customer lifetime value and revenue. It works with a global portfolio of clients including Livescore, 888 Holdings, Novomatic, Rush Street Interactive, Golden Nugget, Superbet, Oddschecker.
To learn more, visit Xtremepush.com.
About Chalkline
Chalkline is a full-service customer acquisition and retention platform. Chalkline BettorGames™ technology delivers personalized, fully-hosted and mobile-first sports prediction games at scale.
The company's BettorBI™ suite analyzes user-level data that informs faster, smarter, more profitable business decisions. Chalkline's growing client base includes leading casinos, sportsbooks, affiliates, and media clients. 
Based in Nashville, TN, Chalkline has delivered 51,000+ unique games to 13M+ players globally. 
To learn more, visit ChalklineSports.com.