Missed the latest webinar in 'The Operator's Edge' series? Here's a quick recap of top takeaways. You can watch the full replay on-demand right here. We also have the slides from the presentation right here.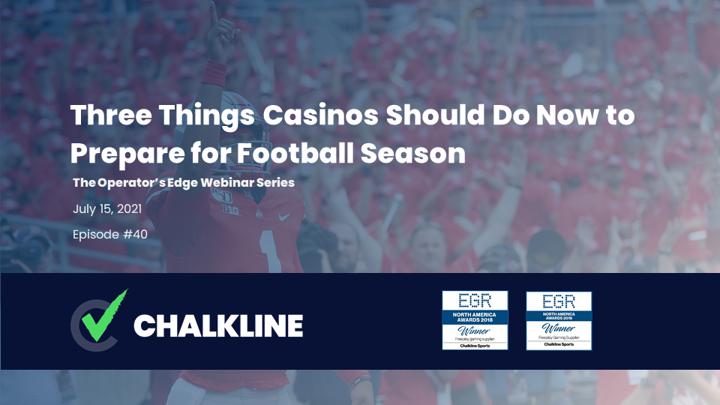 In this month's edition of 'The Operator's Edge' webinar series, Chalkline Co-Founders Joe Kustelski and Daniel Kustelski offered three ways that casinos can get ready for the upcoming NFL and NCAA football seasons.
Check out the top takeaways from the webinar below.
Watch the on-demand webinar: The Operator's Edge: Three Things Casinos Should Do Now to Prepare for Football Season.
1. Map Out Your Digital Activation Plan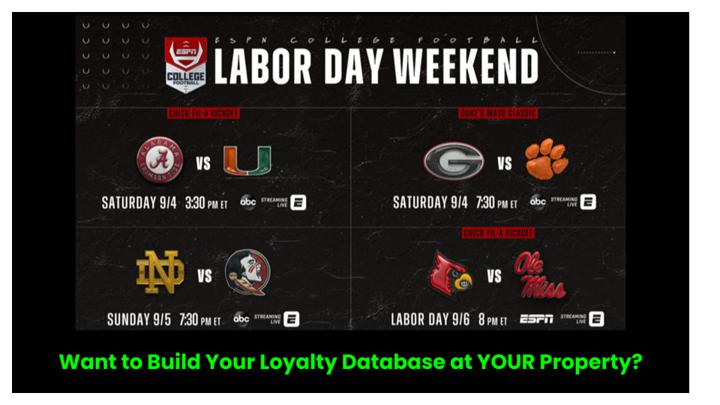 Even if you run a land-based casino, you should be using digital tactics to attract and engage your patrons. 
By embracing mediums like email, social media, and mobile apps, you can build your database and start to develop a relationship with players before they set foot on your property. 
Once they arrive, they'll be familiar with your brand and feel more comfortable spending money with you.
To achieve this, you'll need to offer personalized experiences that resonate with your patrons.
For example, you could create highly engaging free-to-play games based on local teams or athletes. From there, you'll be able to drive deeper data capture and continue to provide tailored games and offers that are more appealing to individual players.
2. Map Out Your Retail Activations
Whether your casino has a dedicated sportsbook, sports bar, or even just TVs around your property, these spaces will attract dedicated sports fans and bettors. 
So how do you turn these eyeballs into data capture opportunities? 
With a solid retail activation strategy.
From text-back campaigns to publicly displayed leaderboards to touch screens, there are plenty of ways to find out who is visiting your property and what they're interested in.
Make sure you're taking advantage of this critical opportunity to capture these uncarded patrons.
3. Message Your Patrons Early and Often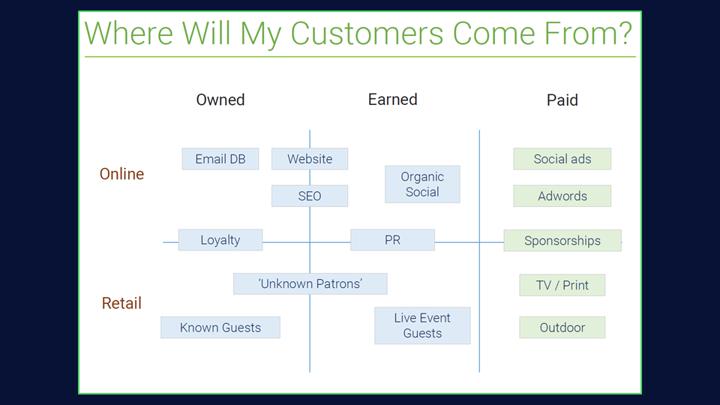 With fall right around the corner, there's no time like the present to start getting the word out about your football (and other sports betting) offers.
Even if you have a large loyalty database to message, it often takes time to convert them -- including when it comes to the events that they're passionate about.
As you start to promote yourself to NFL and college football fans, make sure you set success metrics across digital and retail. Measure your performance regularly and adjust your strategy as needed.
Aim to have these metrics in place by the first week of the season. This is a critical moment for sports bettors that attracts huge amounts of attention and sets the precedent for the remainder of the season.
Connect with Chalkline
Watch the webinar replay for more real-world examples and tips to prepare your casino for football season. 
You can also browse all of the webinars in 'The Operator's Edge' series from Chalkline.
Set up a live conversation with Daniel to discuss how Chalkline can help your sportsbook attract new bettors and increase profits.
Learn more about Chalkline's free-to-play games.