Missed the latest webinar in 'The Operator's Edge' series? Here's a quick recap of top takeaways. You can watch the replay on-demand right here.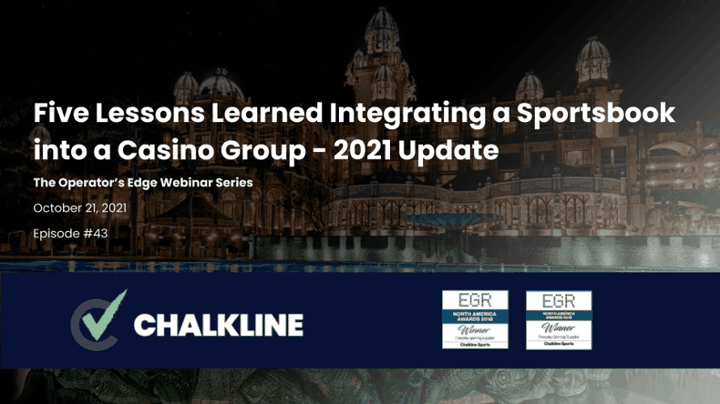 Are you a casino in the process of adding sports betting?
Our CEO Daniel Kustelski has been in your shoes. Having integrated an online sportsbook into a land-based casino group 10 years ago, he's well aware of the challenges and opportunities, based on his own experience and years of studying the data.
Also, three years into regulated sports betting in the US, we've got great examples of casinos rolling out sportsbooks to draw from.
The five biggest lessons learned from our experience:
1. Protect and Engage Your Loyalty Database
Your existing customers are your most valuable asset - but competing sportsbooks are aiming for them. Sportico reported that sportsbooks spent $21.4 million on TV ads during NFL Week 1 alone. That doesn't even account for online or offline spend.
For land-based casinos, loyalty programs are incredibly valuable. Most casinos already do this well. In all likelihood, you have players who have been with you for years and are loyal to your brand. So when they see that you're offering a new product - sports betting - they're pretty likely to give your book a try.
Super-serving your VIPs as sports betting rolls out will pay for itself.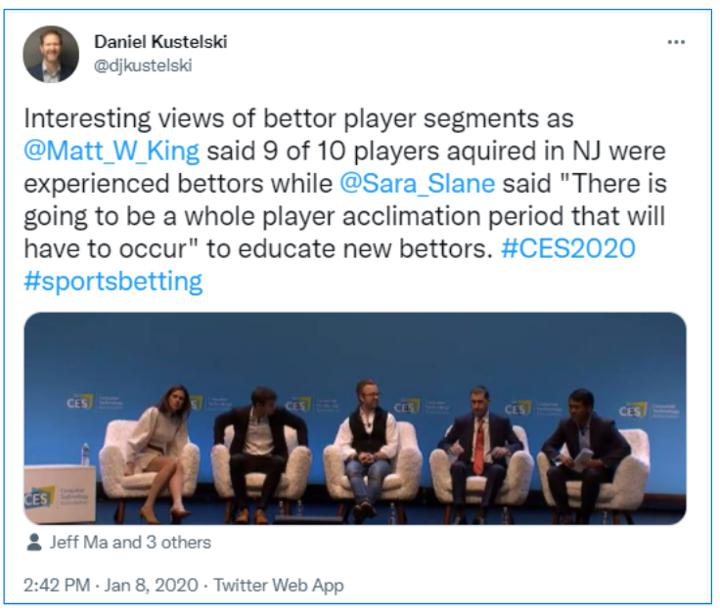 2. Educate and Acclimate Patrons and Staff
According to the American Gaming Association, more than 30 million Americans are going to place their first legal sports bet by 2025. That's a LOT of first-time bettors.
The more that newer bettors can begin to understand concepts like spreads and moneylines, the more they'll enjoy sports betting. If you want to drive more engagement from casual bettors, you need to make it simple for them to get started.
Casinos are great at educating customers on slots and table games--why shouldn't patrons get the same treatment with sports betting?
It's still the "1st Quarter" for sports betting in North America. Educating your patrons and your staff at this key time is good for business.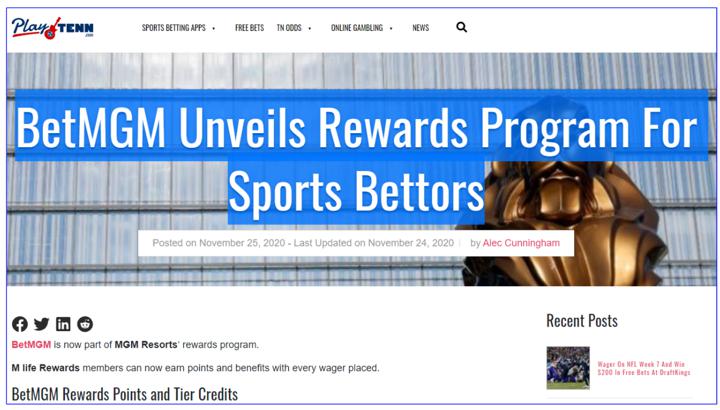 3. Integrate Loyalty Programs Early
We've stressed the importance of engaging and protecting your loyal customers. The same applies to the speed of how quickly you integrate your loyalty programs with your newly launched sportsbook. Several multi-state operators currently in market already are doing this - and many of them are doing it well.
You've already spent considerable resources building out your loyalty program and forming strong relationships with your customers. Include these same loyalty initiatives in your sports betting offerings from the get-go. Your loyal customers will love to earn and burn.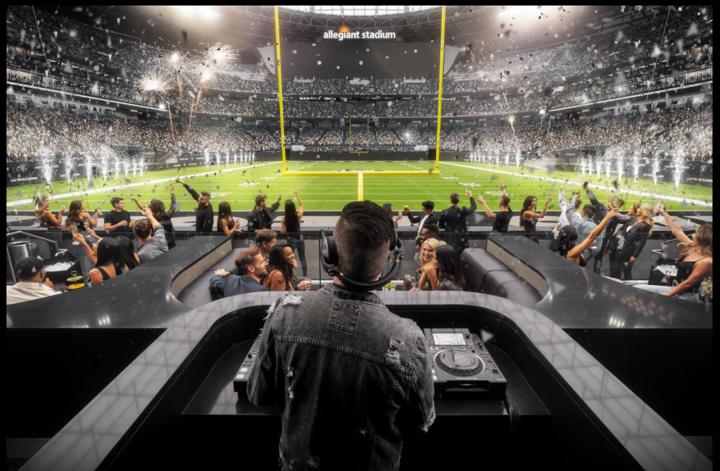 4. Use Mobile to Drive Retail Revenues
How many of your patrons watch sports out of their homes? There are lots who do - and those who don't might simply need a reason to.
Think of ways in which you can use your online channels to drive retail visits and revenue. One popular tactic is to host watch parties or exclusive events for VIPs. This could be anything from a live showing of a UFC event, to a meet-and-greet with a local athlete during a game.
No matter what form it takes, live sports can be used to drive retail visits - even in pre-regulation states.
How many uncarded patrons attend your sports watch parties and frequent your sports bars?
Use these events to increase loyalty program registrations and app downloads with promotions or free-to-play games. This will not only enhance the live experience, but also drive repeat retail visits.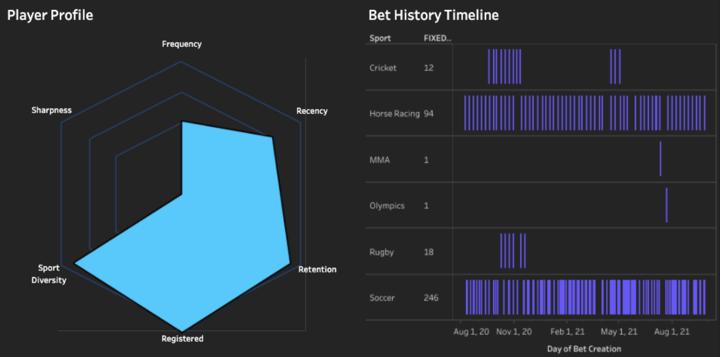 5. Product Differentiation is Key to Long-term Success
Sports betting means many things to many different player segments. As a result, product differentiation will be critical to your long-term success.
Based on our experience (and with a lot of data to back it up), the best casino-based sportsbooks:
Localize

Personalize

Build actionable data profiles
Localization is one of the easiest (and most effective) ways to drive engagement. By offering games and odds based on a player's location, you're more likely to capture their attention and convince them to engage with you.
Personalization can take many shapes: who is a player's favorite team? What is their experience level as a sports bettor? There's plenty of data to back this up: personalized marketing performs better, ESPECIALLY when it's around passion points like "my favorite college football team."
Customer data is what makes personalization and localization possible. Having information like a customer's state, favorite team, or favorite sport to bet on will give you deeper insight into their preferences.
Collectively, this approach leads to creating better customer experiences AND casinos can use this data to make faster, smarter, more profitable decisions moving forward.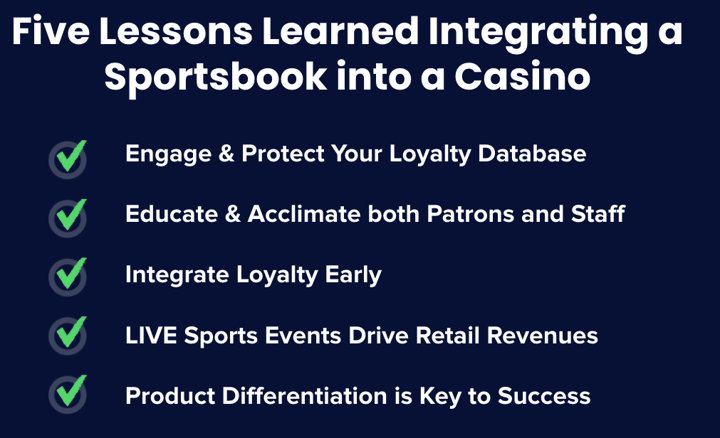 In Conclusion
High-growth sports betting represents a HUGE opportunity for casinos, as casino patrons have a strong tendency to wager on sports. 
Patrons love sports and most are inclined to bet on sports. Based on our first-hand experience, casino patrons can be cost-effectively engaged through online AND retail campaigns to build your loyalty database of sports bettors.
Loyalty integration for casino + sports betting in the lynchpin for effective cross-promotion and high marketing ROI in the days leading up to your sportsbook rollout...and moving forward.
Connect with Chalkline
Watch the webinar replay for even more tips, experiences and proven strategies for successfully integrating a sportsbook into a casino.
Set up a live conversation with Daniel and learn more about how Chalkline can be your casino's one-stop sports betting starter kit.
You can also browse all of the webinars in 'The Operator's Edge' series .
We'd love to learn more about your business and how we might be able to work together to grow your bottom line.