IGT and WinIn have announced a partnership to bring an online and retail sportsbook to Puerto Rico. You can learn more about the partnership here.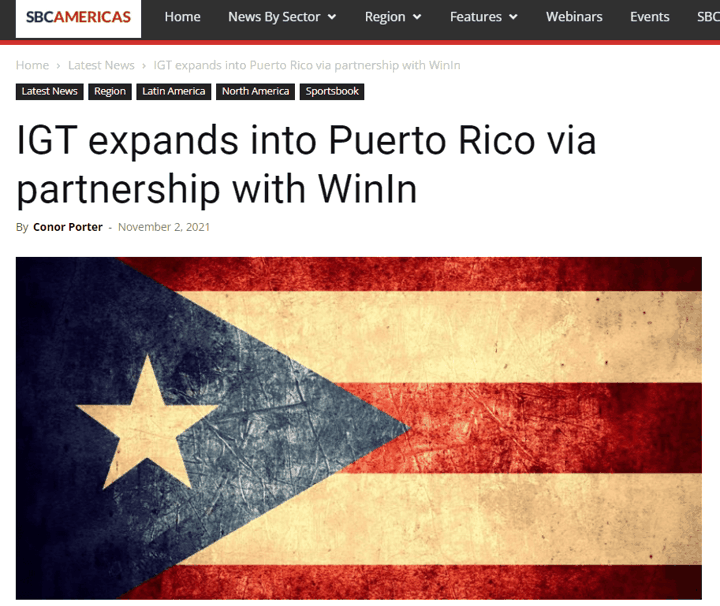 Earlier this month, International Game Technology (IGT) announced that it would expand its North American presence by partnering with WinIn, an entertainment company based in Puerto Rico.
Under the technology and services partnership, WinIn will launch its online and retail sportsbooks through the IGT PlaySports platform, helping both companies kick off their sports betting operations in the recently regulated Puerto Rico market.
How WinIn Used Free-to-Play Games to Prepare for a Sportsbook Launch
At Chalkline, we often talk about the importance of building your brand in soon-to-be regulated jurisdictions.
In these markets, you have an opportunity to capture new customers before your competitors do -- which the visionary team at WinIn understood.
Before ever launching a sports betting offering, WinIn worked hard to establish their brand and grow a customer database, using tools like free-to-play games to achieve these goals.
Earlier this year, Chalkline teamed up with WinIn to power the Miss Universe Puerto Rico Prediction Challenge Freeplay Game, which allowed players to earn prizes for correctly guessing the outcomes of the Miss Universe Puerto Rico pageant.
For the Chalkline team, working with WinIn offered an exciting opportunity to showcase the versatility of our platform. 
Many Chalkline-powered free-to-play games revolve around sports, but the WinIn game was an excellent example of how the Chalkline platform can be used for all types of brands and betting events.
Connect with Chalkline
Read the full article for more information about the IGT-WinIn partnership.
You can also browse all of the webinars in Chalkline's 'The Operator's Edge' series.
Set up a live conversation with Chalkline CEO Daniel Kustelski to discuss how Chalkline can help your sportsbook attract new bettors and increase profits.
Learn more about Chalkline's free-to-play games.