Chalkline CEO Daniel Kustelski recently wrote a column for Gaming America, exploring the importance of football season for sportsbooks and betting operators. Here's a recap of top takeaways. You can read the full article here.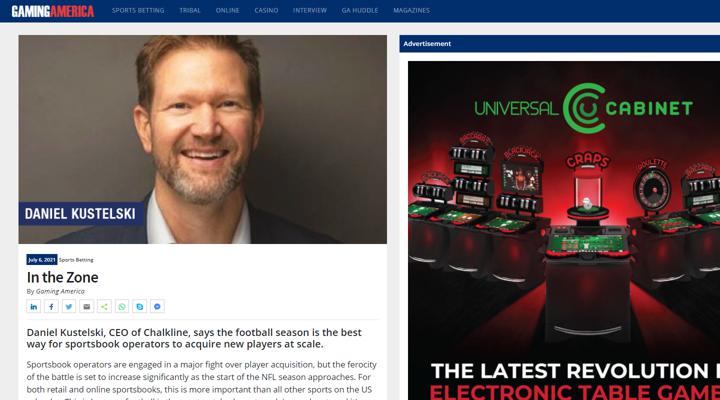 However you look at it, football dominates the sports landscape in the United States.
Not only are football games consistently among the most-watched TV programs in the country, but the NFL is also the most bet-on sport in regulated states like Nevada and New Jersey.
This is particularly compelling when you remember that the NFL has the fewest number of games of any other professional sports league (256 games per year vs. 2,460 in the NBA). Handle per game is also far higher than in other sports.
With that in mind, it's easy to understand why football season is the most critical time of year for sportsbook operators.
Here's how your book can make the most of this year's NFL and NCAAF season.
Attract Players Through Advertising and Bonusing
Football and TV go hand-in-hand.
There's enormous revenue and ratings involved in televised football -- which is why the leading operators rely on TV advertising to drive new players to their books.
In most cases, this advertising includes bonuses and incentives to capture more first-time players.
Last year, operators' largest bonuses occurred when interest in football was at its highest (at the start of the year in September and near the Super Bowl in February).
With more states offering legalized sports betting, we're poised for another massive year in terms of TV advertising aimed at prospective bettors.
Maximize Your Marketing Spend
Although advertising and bonusing are a proven way to get your brand in front of a captive audience of sports fans and potential patrons, not every company can afford these activities.
If that's the case for your book, consider other cost-effective strategies that can still effectively earn your audience's attention.
For example, you might put together a season-long contest that draws in new bettors from the start of the season and allows others to join as the year progresses.
You also have the option of offering free-to-play games that engage, educate, and acclimate your audience about sports betting -- eventually helping them get comfortable enough to place their first real money wager.
Whichever marketing tactics you decide on, it's important to start building your strategy now to make sure you're ready to acquire and engage new bettors when September arrives.
Connect with Chalkline
Read the entire column for more data and insights for sportsbook marketers as football season gets closer.
You can also browse all of the webinars in Chalkline's 'The Operator's Edge' series.
Set up a live conversation with Daniel to discuss how Chalkline can help your sportsbook attract new bettors and increase profits.
Learn more about Chalkline's free-to-play games.