Chalkline CEO Daniel Kustelski recently wrote an article for Casino International, discussing how venue operators can use the return of retail to drive customer acquisition and engagement. You can read the full article here.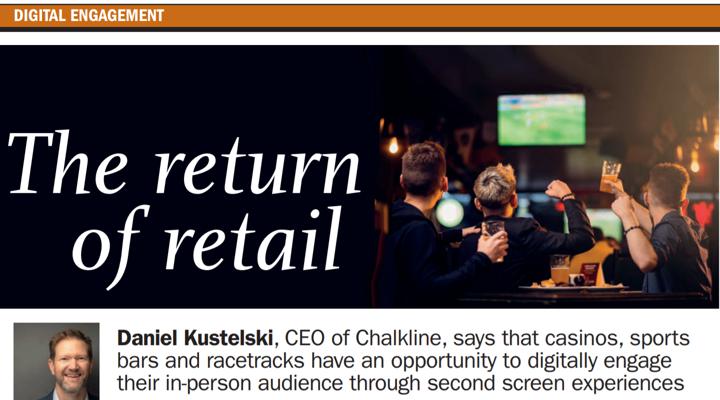 Over the next 18 months, sports fans will closely follow major domestic and international sporting events like the Olympics, NFL and NCAA football, and the World Cup.
These high-profile events will drive fans to watch from their retail venue of choice, whether that's a sports bar, a casino, or a horse track.
If you're a venue operator, this represents a critical opportunity to attract new bettors and engage current players -- while they're on your property.
The question is: how do you convince them to engage with you beyond a single game or event?
By creating second screen experiences.
Why You Need a Second Screen Strategy
No matter where you go, you'll notice people interacting with their smartphones -- even while they're watching a game.
In fact, 80% of sports viewers have a second (or even third) screen going while watching their team play.
As a retail venue operator, you need to consider this when you're hosting sports fans on your property. 
Having a second screen strategy for your venue gives you the chance to identify unknown patrons and build your database with engaged sports fans and potential bettors.
Think about how you could get your visitors to engage with your brand on their mobile phone, both while they're on your property and after they leave.
With the following tactics, you can tap into your patrons' multi-screen mindset and start to create long-term connections with them.
Retail Tactics That Work
Whether it's viewing a restaurant menu through a QR code or using contactless payment methods, people are already comfortable using technology in retail settings.
Beyond that, it's your job to create engaging experiences that compel your visitors to interact with you.
Some of the tactics that we've seen work in retail venues: 
Freeplay games
Text-back campaigns
Promotions for future events
Social sharing
Each venue is different, so you might find it best to start small and see what works.
From there, you can refine your strategy to create a highly engaging atmosphere for your guests.
Connect with Chalkline
Read the full article for more insights about the return to retail and how venue operators can prepare.
You can also browse all of the webinars in Chalkline's 'The Operator's Edge' series.
Set up a live conversation with Daniel to discuss how Chalkline can help your sportsbook attract new bettors and increase profits.
Learn more about Chalkline's free-to-play games.