Integration with North American freeplay sports supplier empowers GAN clients with additional marketing capabilities to drive loyalty engagement and build sports betting and iGaming businesses.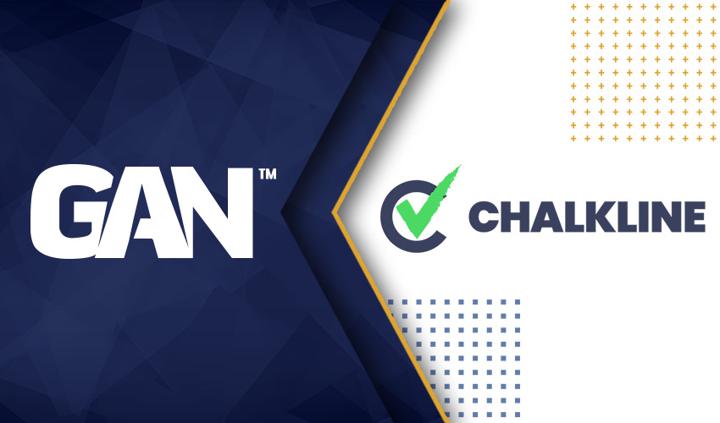 GAN Limited (the "Company" or "GAN") (NASDAQ: GAN), a leading business-to-business supplier of internet gaming software-as-a-service solutions primarily to the U.S. land-based casino industry, today announced a partnership with Chalkline, the leading North American freeplay sports game provider. 
Available for all existing GAN clients, the turnkey Chalkline BettorGames platform delivers freeplay games around sporting events that drive player engagement and conversions to both loyalty and sportsbook. GAN will deliver Chalkline games in a fully integrated experience for clients and players. 
Additional Functionality For GAN Clients
GAN's retail casino operator clients now have a simple, additional product to acquire future sports gamblers online today, at a lower marketing cost than the expected cost tomorrow, once the real-money regulated sports betting market commences. 
Chalkline's freeplay games with live odds deliver fan experience for big betting events like major football, basketball, golf, and combat sports, with both pre-match and live experience formats. Chalkline games are all designed to drive customer acquisition and retention, and integrate across clients' owned, earned, and paid marketing channels. Additionally, all games are backed by the company's proprietary BettorBI, which delivers automated engagement around personalization and localization data points.
Equipped with this 'Big Sporting Event' activation tool, GAN clients can now appeal to, and engage online with, the young-to-middle-aged male sports gambler who sits at the center of the Internet sports gambling consumer demographic and future Internet sports betting revenue opportunity.
Joann Pierce, VP of Sales & Operations for GAN, commented:
"The addition of live odds freeplay sports games is a further step forward for our industry-leading product offering. It offers sports bettors in any state the ability to participate in their favorite sporting events with the added benefit of full integration with a rewards program. Chalkline's experience and roots in customer acquisition for casinos and sportsbooks make this partnership optimal for our clients."
Daniel Kustelski, CEO of Chalkline, commented:
"We're thrilled to enter this partnership with GAN. GAN is one of the most well-known and respected brands in the industry, and this fits perfectly into a rapidly evolving gaming landscape for casinos and their patrons. Players love big sporting events, casinos see more and more footfall during these events, and freeplay games build loyalty while delivering an engaging fan experience."
About GAN Limited
GAN is a leading business-to-business supplier of internet gambling software-as-a-service solutions predominantly to the U.S. land-based casino industry.  GAN is also a market-leading operator of proprietary online sports betting technology with market leadership positions in selected European and Latin American markets through its Coolbet division. In addition, GAN has developed a proprietary internet gambling enterprise software system, GameSTACK™, which it licenses to land-based casino operators as a turnkey technology solution for regulated real money internet gambling, encompassing internet gaming, internet sports gaming, and virtual Simulated Gaming. Additional information about GAN can be found online at www.GAN.com.
About Chalkline
Chalkline, formerly Chalkline Sports, is a full-service sports betting growth platform. Chalkline's "BettorGames" platform delivers personalized, fully-hosted and mobile-first games at scale, including their new LIVE, RETAIL & VIP games. The company's "BettorBI" platform collects user-level data that informs faster, smarter, more profitable business decisions. Chalkline's growing client base includes leading casinos, sportsbooks, affiliates and media clients. With offices in Nashville, London and Johannesburg, Chalkline has delivered 24,000+ unique games to 9M+ players globally. To learn more, visit chalklinesports.com.