This week, Chalkline CEO Daniel Kustelski shared his thoughts on the state of gaming in light of the COVID-19 pandemic. Here's a recap of top takeaways. You can read the complete article right here.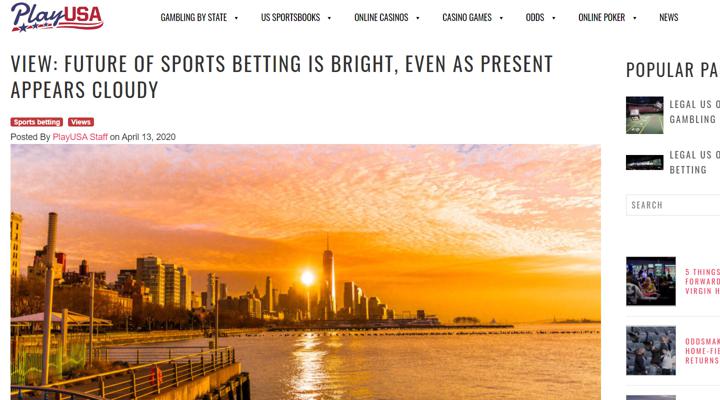 Sports bettors and betting operators shouldn't have concerns about the long-term outlook for the betting industry, Chalkline Sports CEO Daniel Kustelski told PlayUSA this week. 
Although the COVID-19 crisis has shuttered in-person sportsbooks and shut down live sports, these temporary setbacks won't be the end of the industry. 
However, sports betting has already been shifting toward mobile and online wagering -- and COVID-19 will only speed up that transition.
Next Up for Sports Betting Operators: Mobile and Online Wagering
If land-based operators don't already have a digital presence, now is the time to make it happen, Daniel said.
Similarly, states that haven't yet legalized mobile and online gaming options should prepare to do so.
But despite these immediate challenges, Daniel remains optimistic about the gaming industry and its bounce-back from the COVID-19 crisis.
"There will undoubtedly be small delays in legislative sessions, but overall, this will drive the industry forward," Daniel said. "States will need revenues, the industry can provide jobs, and sports fans are going to find ways to engage with their favorite sports, teams, and players."
With most live sports currently on hold, Chalkline has adapted by creating free-to-play games for other sporting events, like horse racing and the NBA 2K Players' Tournament.
How Should Betting Operators Approach the Current Situation? 
It's a difficult time for many people, but that doesn't mean that betting companies should put their operations on hold.
While it's important to be sensitive to customers' concerns, it's also critical to understand the role that betting operators play in people's lives.
"The opportunity for you and your customers is different from what it was even one month ago, but sports fans crave distractions now more than ever, and when you work in sports betting, your job is to provide people with the engagement they love," Daniel said.
Connect with Chalkline 
Read the full article for more of Daniel's conversation with Play USA.
You can also browse all of the webinars in 'The Operator's Edge' series.
Set up a live conversation with Daniel to discuss how Chalkline can help your sportsbook attract new bettors and increase profits.
Learn more about Chalkline's free-to-play games.