This week, Chalkline Sports Co-Founders Joe Kustelski and Daniel Kustelski spoke with the Nashville Business Journal about what's next in US sports betting. Here's a recap of top takeaways. You can read the complete article right here.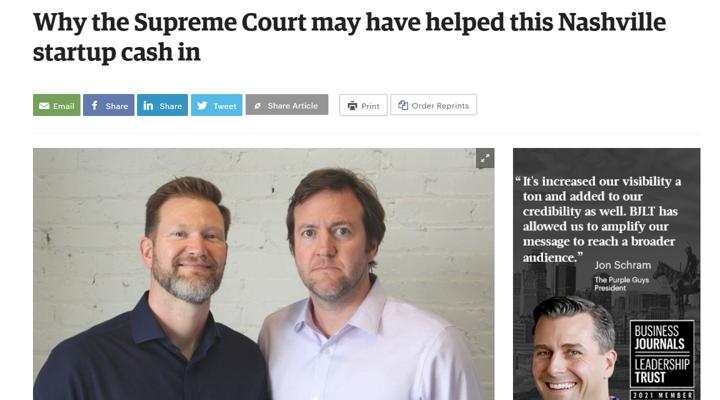 It's been an important week for sports betting fans and operators in the United States, with the U.S. Supreme Court striking down a federal law that banned most sports betting in the country. 
Although the ruling won't immediately legalize sports betting across the board, it opens the door for individual states to determine if they want to make it lawful.
Regardless, it's certainly welcome news for sports betting companies. After the decision was announced, Chalkline Sports founders Daniel and Joe Kustelski spoke with the Nashville Business Journal to discuss the implications and the future of sports betting in America.
How the Decision Impacts US Sports Betting
Compared to many other countries, gambling and sports betting laws in the US are quite strict. But the 6-3 decision from the Supreme Court indicates that attitudes toward betting are relaxing. 
"It's been a long time coming," said Daniel Kustelski, CEO of Chalkline Sports. "There is going to be a huge competition for the sports bettor in the United States, and we empower all of our clients to reach out to them prior to legalization [in specific states]."
The long-term implications of the ruling aren't clear yet. However, the decision creates a pathway for more states to legalize sports betting (and benefit from the tax revenue it generates).
Chalkline Sports: Building Personalized Bettor Communities
Chalkline works with betting operators to create personalized bettor experiences with a mobile-first focus. The thought is that it's easier for bettors (particularly first-time bettors) to bet on their phone rather than at a casino or race track.
Plus, Chalkline's technology customizes the betting experience for individual users, creating prompts and offers based on their favorite teams, leagues, and habits. Its free-to-play games engage users with these features, as well as live odds, leaderboards, and more.
"When you look across innovation in the sports-betting industry, there really hasn't been an awful lot of personalization yet. Other industries and other engagements you have on your phone are incredibly personalized," Daniel said. "So, I think we're just bringing sports betting to the party and allowing some of that modern technology to permeate the sports-betting industry."
Read the Daily Racing Form case study to learn more about how Chalkline drives new customers and revenue for betting operators.