Chalkline has been shortlisted for two awards at this year's EGR North America Awards. Here's a recap of the announcement. Visit EGR's website to see all of the nominees and learn about the event.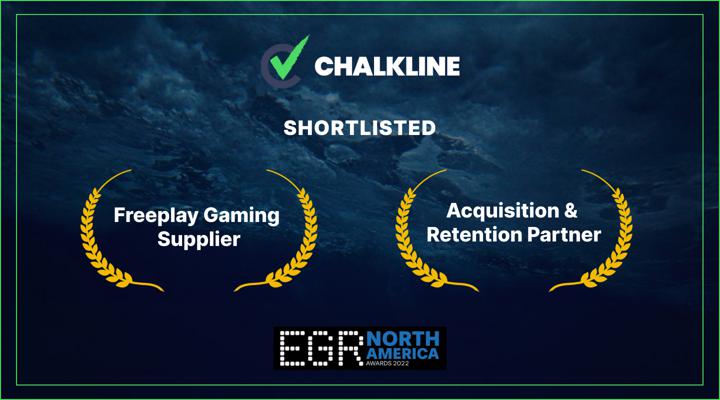 For another year in a row, Chalkline has been shortlisted at the EGR North America Awards in the Supplier and Service group.
This time, we've been selected as finalists in two categories: Acquisition and Retention Partner and Freeplay Gaming Supplier.
Presented by EGR Global (eGaming Review), the EGR North America Awards are among the most prestigious in the industry, honoring the top companies in online gaming.
Why Chalkine Was Selected
Chalkline's freeplay platform is designed to help operators drive customer acquisition and retention. It's why clients like Covers, FanDuel, and JACK Entertainment rely on our freeplay games to attract new players and nurture a loyal customer base that keeps coming back for more.
Since our freeplay product is so tightly interconnected with sports betting acquisition and retention, Chalkline was recognized in two categories on this year's awards shortlist: Acquisition and Retention Partner and Freeplay Gaming Supplier.
Chalkline was chosen by a panel of independent judges for the Acquisition and Retention Partner award based on these criteria:
Business growth
Delivery of brief
Flexibility
Understanding of customer needs
Reaction to market challenges
For the Freeplay Gaming Supplier category, the following criteria were used: 
Commercial success
Product development
Product integration and delivery
Product flexibility
The 2022 EGR North America Awards will be held on April 26, 2022, at the Midtown Loft & Terrace in New York.
Connect with Chalkline
Visit EGR's website to learn more about this year's shortlist and award ceremony.
You can also browse all of the webinars in Chalkline's 'The Operator's Edge' series.
Set up a live conversation with Chalkline CEO Daniel Kustelski to discuss how Chalkline can help your sportsbook attract new bettors and increase profits.
Learn more about Chalkline's free-to-play games.