Chalkline was highlighted in a recent edition of the Wagers.com betting and gaming industry newsletter. You can read the full newsletter right here.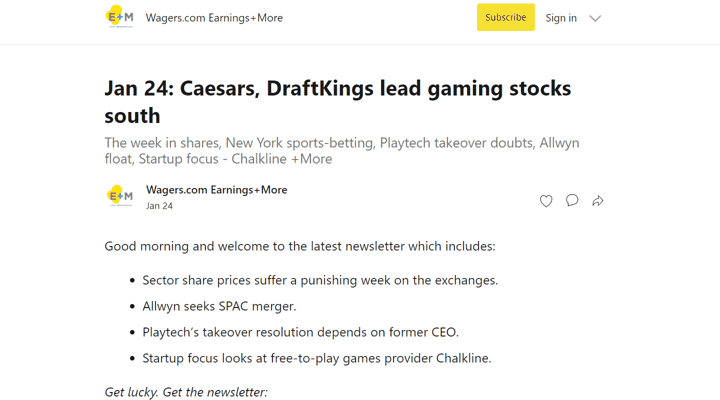 This week, Chalkline was recognized in Earnings+More, the gaming industry newsletter produced by journalists Scott Longley and Jake Pollard of Wagers.com.
Featured in the "Startup Focus" section of the newsletter, the Chalkline write-up offered great insight into our business, including who we are, what we do, and what we're planning for 2022 (and beyond).
Chalkline in 2022: Looking Forward to Another Exciting Year
As covered in the newsletter, 2021 was a standout year for Chalkline. 
Not only did we secure a $2.7m funding round, but we also doubled the size of our development team, introduced new products, and added several major clients.
We're looking forward to another significant year as we continue delivering tools and technology to help our clients acquire, engage, and retain customers.
Connect with Chalkline
Check out the Earnings+More newsletter to read the full Chalkline write-up and other gaming industry news.
You can also browse all of the webinars in Chalkline's 'The Operator's Edge' series.
Set up a live conversation with Chalkline CEO Daniel Kustelski to discuss how Chalkline can help your sportsbook attract new bettors and increase profits.
Learn more about Chalkline's free-to-play games.