This week, Chalkline and TwinSpires announced the launch of this year's TwinSpires Kentucky Derby Challenge. Here's a recap of top takeaways. You can read the complete article right here.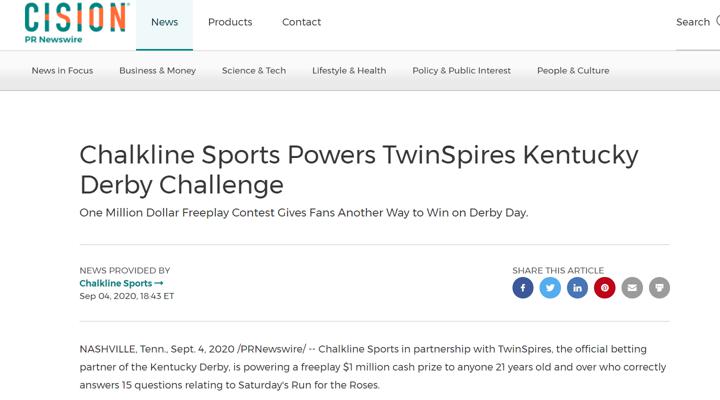 As the official betting partner of the iconic Kentucky Derby, TwinSpires has teamed up with Chalkline Sports to create a free-to-play game where bettors can win a $1 million cash prize.
To win the TwinSpires Kentucky Derby Challenge, bettors over the age of 21 must correctly answer 15 questions related to this year's race.
The game requires players to guess the horse that will win the Kentucky Derby, how much the winning margin will be, and more.
"The Kentucky Derby is one of the most recognized events in the world of sports and betting," said Chalkline CEO Daniel Kustelski. "The TwinSpires Kentucky Derby Challenge powered by Chalkline Sports adds to the experience for every level of fan and bettor."
Why TwinSpires Launched the Challenge
TwinSpires is part of Churchill Downs Incorporated, which owns the iconic racetrack as well as online wagering and in-person gaming facilities.
The company's flagship event is the Kentucky Derby, which is watched by millions of people around the world each May.
By offering a free-to-play game, Churchill Downs Incorporated provides an exciting way for racing fans to enter into the world of paid sports betting. 
Through its partnership with Chalkline, the company is set to attract more bettors to its platform, with the goal of converting them to paid customers.
Chalkline Sports: Leading the Way in Free-to-Play Betting Solutions
To launch the game, TwinSpires tapped into Chalkline's deep industry experience as well as its technology, business intelligence, media, and digital marketing.
Chalkline has powered free-to-play solutions for a number of horse racing and sports betting companies, including the Daily Racing Form.
By creating personalized, mobile-focused betting experiences, Chalkline builds communities of engaged bettors.
As a result, we deliver highly engaged customers to betting operators, opening up new revenue streams and offering insight into bettors' mindsets.
Connect with Chalkline 
Read the full article to learn more about Chalkline's work with TwinSpires.
You can also browse all of the webinars in 'The Operator's Edge' series.
Set up a live conversation with Daniel to discuss how Chalkline can help your sportsbook attract new bettors and increase profits.
Learn more about Chalkline's free-to-play games.