As announced in a press release this week, Chalkline will power the third-annual TwinSpires $1,000,000 Kentucky Derby Challenge. Here's a recap of top takeaways. You can read the complete release right here.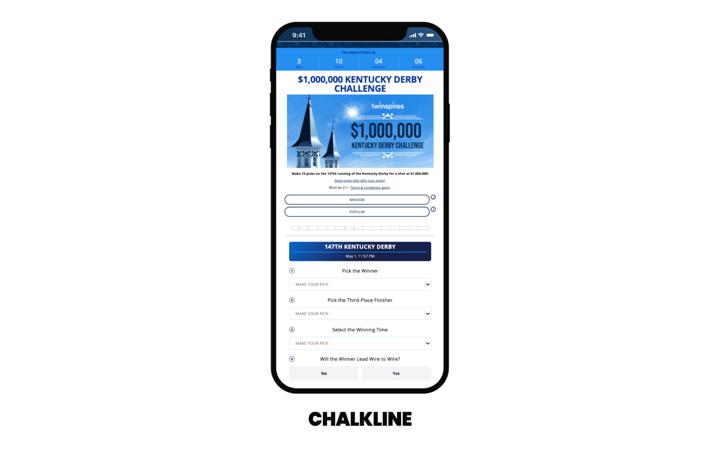 This week, Chalkline announced that it would again power the $1,000,000 Kentucky Derby Challenge in partnership with TwinSpires, the official betting partner of the Kentucky Derby.
For the third consecutive year, TwinSpires and Chalkline will offer this exciting freeplay game to racing enthusiasts in the U.S. To win, participants must predict a series of outcomes related to the Run for the Roses.
"The Kentucky Derby is the biggest event of the year for many sports fans, bettors and gaming enthusiasts," said Daniel Kustelski, CEO of Chalkline. "Chalkline is thrilled to power the TwinSpires Kentucky Derby Challenge for a third consecutive year and continue a tradition of delivering an exciting chance for racing fans to win big."
How the $1,000,000 Kentucky Derby Freeplay Challenge Works
To win the challenge, participants must visit the TwinSpires site and correctly answer 15 questions, including:
Which horse will win the Kentucky Derby? 
Which horse will finish in third place? 
Will the winner lead wire to wire? 
What will the fastest half-mile time be?
The free competition is open to U.S. bettors over the age of 21. If you're new to TwinSpires, you can use code GET200 to receive a $200 bonus. 
Why Bettors Are Participating in the Freeplay Challenge
With the race once again taking place on its traditional date of the first Saturday in May, there's a good deal of anticipation in the lead-up to this year's event. 
However, due to crowd capacity limits, many fans won't be able to attend in person.
If you're planning on watching the 147th annual Kentucky Derby at home or with friends, the challenge offers a fun and free way to get involved and enjoy this classic American sporting event.
Connect with Chalkline
Read the full release for more information about this year's $1,000,000 Kentucky Derby Challenge from TwinSpires and Chalkline.
You can also browse all of the webinars in 'The Operator's Edge' series.
Set up a live conversation with Daniel to discuss how Chalkline can help your sportsbook attract new bettors and increase profits.
Learn more about Chalkline's free-to-play games.