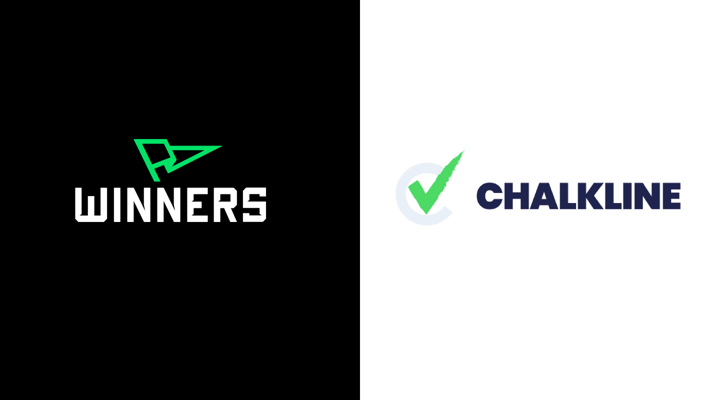 Chalkline will power localized mobile sports and racing prediction games for fans at nine retail locations and online at MyWinners.com
Nashville, TN – December 20, 2022
About the Partnership
Sportech and Chalkline have teamed up to deliver free-to-play sports prediction games for online and retail customers at Winners and Bobby V's Restaurant & Sports Bar locations. 
The new promotional platform features sports contests for all major sports, with special free-to-play single game parlay pick'ems for local favorite teams.
New mobile-first games are available daily at https://contest.mywinners.com.
To play, customers simply make 5 or more predictions on the biggest games of the week.
Predictions are resulted in real-time with live leaderboard updates. Prizes include restaurant gift certificates, team jerseys and apparel, and for certain special promotions, up to $5,000 in cash.
Daniel Kustelski, Chalkline CEO & Co-founder, said:
"Winners venues are full of sports fans every day of the week, and these customers want to be part of the game. Whether it's their favorite football night, favorite team or favorite player, fans love to play along with the action. 
U.S. sports fans deserve premium, localized and personalized free-to-play engagement as the market grows, and this partnership delivers new ways for fans to enjoy the game as part of their retail experience."
Paul Dionne, Vice President of Marketing at Sportech, said:
"Our customers love live sports and racing, and this partnership gives fans a chance to really get into the game. Partners like Chalkline are helping us redefine the experience for what it means to be a fan at one of our retail locations.
Whether it's the World Cup, NFL, NBA, NHL or a major racing event, the contests at MyWinners.com are consistently driving fan engagement."
About Sportech Venues, Inc. & MyWinners.com:
Sportech Venues, Inc. holds the exclusive license to conduct pari-mutuel wagering on horse racing, greyhound racing and jai alai in the State of Connecticut, in perpetuity. The company operates nine wagering venues and sports bars under the brands Winners and Bobby V's Restaurant & Sports Bar. In addition, the company operates an account wagering service at www.MyWinners.com, which offers online wagering on horse racing and greyhound racing, and telephone wagering on horse racing, greyhound racing and jai alai. A portion of every dollar wagered with Winners goes to the Connecticut General Fund, to local municipal tax funds and to funds for responsible gaming. For more information about Winners, please visit www.MyWinners.com.
About Chalkline
Chalkline is a full-service customer acquisition and retention platform. Chalkline BettorGames™ technology delivers personalized, fully-hosted and mobile-first sports prediction games at scale. The company's BettorBI™ suite collects player-level data that informs faster, smarter, more profitable business decisions. Chalkline's growing client base includes leading casinos, sportsbooks, affiliates, and media clients. With offices in Nashville, London and Johannesburg, Chalkline has delivered 48,000+ unique games to 12M+ players globally. To learn more, visit chalklinesports.com.
For Media Inquiries
Joe Kustelski
joe@chalklinesports.com 
+1.615.772.6196