This week, Chalkline and PlayUp USA announced a partnership to bring freeplay games to NHL fans in New Jersey. Here's a recap of highlights from the announcement. You can read the complete article right here.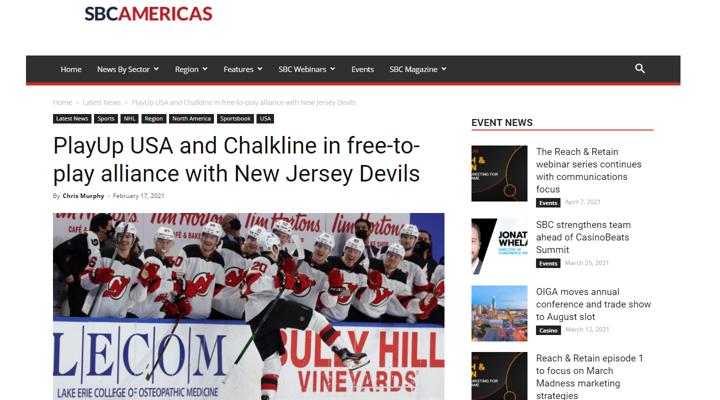 Chalkline Sports has announced a new partnership with PlayUp USA to bring free-to-play sports betting to fans of the New Jersey Devils.
With operations in Australia, India, and New Zealand, PlayUp is already an established global betting technology company.
PlayUp USA recently signed a sponsorship deal with the NHL's New Jersey Devils to promote its US sportsbook launch in March 2021.
"It is important for us to align ourselves with top teams and partners as we grow fast in the US," said Dr. Laila Mintas, CEO at PlayUp USA. "The New Jersey Devils typify that, and having a strong partner on our free play site like Chalkline only solidifies what we are trying to achieve in New Jersey."
Why PlayUp Partnered with an NHL Team
With the sponsorship, PlayUp will become the official presenting partner of the Devils' nationally broadcast pre-game show, which will air on YouTube and Facebook. 
During these shows, hockey fans will see the brand's signage and be encouraged to visit PlayUp's website, where they can try free-to-play and real money games.
How Chalkline Made It Happen
PlayUp USA was eager to capitalize on the exposure from the sponsorship with the Devils and drive sports fans to its site.
Chalkline recognized this urgency and was able to get a functional and engaging site in place soon after the partnership became official. 
"The Chalkline team got us up and running quickly and is making an immediate impact on our sponsorship activation," said Mintas. "We were particularly impressed by the knowledge and experience of the team in addition to their turnkey games platform and BettorBI reporting and analytics tools."
As PlayUp USA looks to gain momentum in the US market, its deal with the Devils will play a major role in attracting new bettors to its sportsbook. 
"PlayUp USA is getting in the game in New Jersey in a big way, and engaging one of the best fanbases in the NHL is a great way to start," said Daniel Kustelski, CEO of Chalkline. "We're looking forward to delivering free-to-play games with picks and player props with live odds every single time the Devils take the ice in the 2021 season."
Connect with Chalkline 
Read the full article to learn more Chalkline's partnership with PlayUp USA.
You can also browse all of the webinars in 'The Operator's Edge' series.
Set up a live conversation with Daniel to discuss how Chalkline can help your sportsbook attract new bettors and increase profits.
Learn more about Chalkline's free-to-play games.