This week, Chalkline was featured in US Betting Report as a leading provider of freeplay games. Here's a recap of top takeaways. You can read the complete article right here.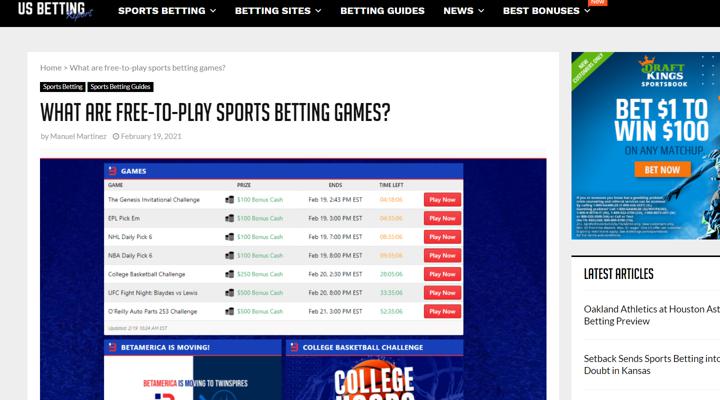 Free-to-play games have captured the attention of people across the United States, from curious sports fans who want to engage with their team to licensed betting operators that want to attract new customers.
With intrigue growing around these highly engaging games, US Betting Report recently published an article covering the basics of free-to-play games, including how they work and where they're available.
In the article, Chalkline Sports was recognized as one of the top technology providers of free-to-play games.
Specifically, US Betting Report referenced Chalkline's work with companies like BetAmerica, Fanduel, and Penn National.
What Are Free-to-Play Games?
Free-to-play games offer sportsbooks a way to acquire new customers in legal sports betting markets.
Bettors can make picks without putting down money, with the ability to win credit or prizes from the betting operator.
For the sportsbook, the goal is to convert free-to-play customers into real-money bettors.
Often, free-to-play games are held during large sporting events (like the Super Bowl or March Madness) to generate more interest from casual and serious sports fans.
As more sports betting brands introduce their own free-to-play solutions, it's become a tactic that betting operators can't afford to ignore. And with technology partners like Chalkline, it's easier than ever for sportsbooks to launch their free-to-play games.
Attract New Customers with Chalkline's Free-to-Play Solutions
Chalkline works with betting operators to create custom free-to-play and real money games designed for their audiences.
We create mobile-first, personalized betting communities that keep bettors engaged and boost sportsbooks' profits.
At Chalkline, we combine deep betting industry expertise with technology, business intelligence, media, and digital marketing to drive new customers for sportsbooks and offer key insights into their behavior. 
Connect with Chalkline 
Read the full article to learn how successful sportsbook and operators are using freeplay games to attract and engage new customers.
You can also browse all of the webinars in 'The Operator's Edge' series.
Set up a live conversation with Chalkline CEO and Co-Founder Daniel Kustelski to discuss how Chalkline can help your sportsbook attract new bettors and increase profits.
Learn more about Chalkline's free-to-play games.