This week, Chalkline CEO Daniel Kustelski was interviewed by Focus Gaming News to share his thoughts on what's to come in the US gaming industry. Here's a recap of top takeaways. You can read the complete article right here.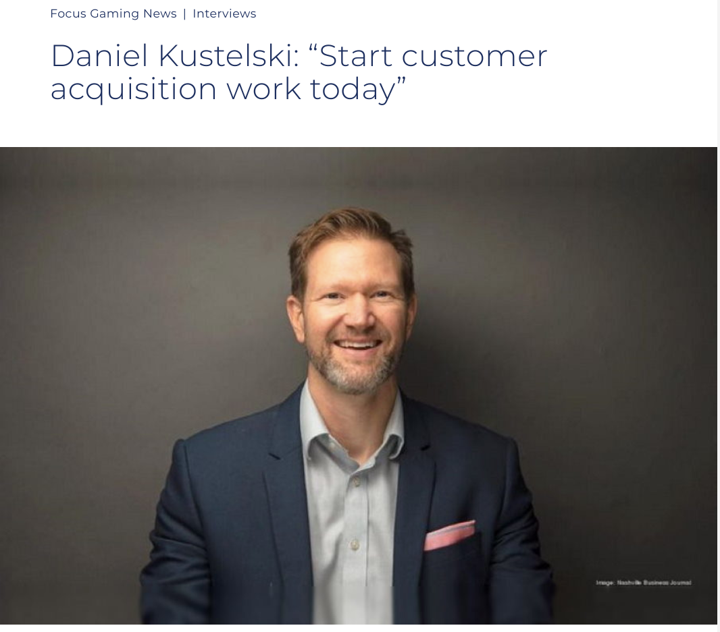 In the US, gaming regulations are constantly changing, with states moving quickly to legalize sports betting and online gambling. 
As an operator, how do you establish yourself in these new markets? 
While there are several essential acquisition tools that you can use, freeplay games remain one of the most effective, said Chalkline CEO Daniel Kustelski in an interview with Focus Gaming News this week.
Now Is the Time to Start on Customer Acquisition
For betting operators, customer acquisition efforts should begin as soon as possible -- even if legalization hasn't yet taken effect in your state. 
In such a competitive market, you need time to build your brand and prove to bettors that you're a trustworthy operator with an appealing offering.
"The single biggest head start comes from beginning customer acquisition work today," said Daniel. 
"Whether it's building state-level partnerships or cultivating influencers or launching freeplay games, get started as early as you possibly can."
Why Free-to-Play Games Are an Essential Acquisition Tool
Acquiring new customers is a tough task for any sportsbook, especially in new markets (like the US) where many players aren't educated about sports betting.
With free-to-play games, you're providing a less-intimidating gateway into wagering, where new players can learn about sports betting before handing over their personal information and using real money.
By creating personalized freeplay contests and games, you're offering them a new way of engaging with their favorite teams -- without the commitment of real money games.
"Freeplay games are essentially product sampling around events that your future customers care about," said Daniel. "Based on data we see every day, it's an effective part of any Player Acquisition Manager's toolbox."
Connect with Chalkline 
Read the full article for additional insights from Chalkline, including how to overcome common challenges associated with deploying freeplay games. 
You can also browse all of the webinars in 'The Operator's Edge' series.
Set up a live conversation with Daniel to discuss how Chalkline can help your sportsbook attract new bettors and increase profits.
Learn more about Chalkline's free-to-play games.