Our CEO Daniel Kustelski recently spoke with Focus Gaming News about the key role that events play in acquiring new customers. Here's a recap of the highlights. You can read the full article right here.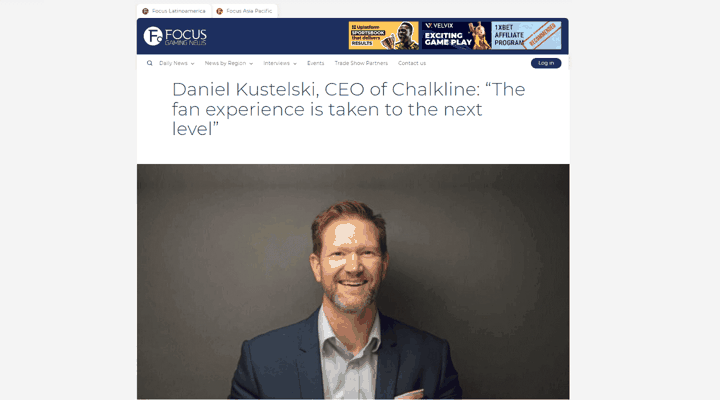 With the new year in full swing and the Super Bowl right around the corner, it's an excellent time for operators and media companies to evaluate how they'll approach big events in 2022.
As an operator or media affiliate, if your customer acquisition strategy doesn't prioritize high-profile events, it's time to change that.
This week, Chalkline CEO Daniel Kustelski was interviewed by Focus Gaming News to explain how large-scale events are a vital driver of new customers.
You can find a quick overview of the interview below, or you can read the entire article here.
Why Events?
Events like the Super Bowl, Kentucky Derby, or March Madness give operators a chance to capture the attention of the masses. 
Instead of just attracting sports fans, these types of events appeal to a broader population of bettors and betting-curious individuals.
By offering real money or freeplay games, you're allowing players to support their favorite team or athlete, which instantly makes them more invested in the action.
Cutting Through the Noise
In the week leading up to the event, you're guaranteed to have a captive audience who want to hear and learn more about it.
For example, if you know that a local TV or radio station will be covering a certain event, you can drive interest around the event on the back of that media coverage.
And, while big events provide a valuable opportunity to attract new customers, they're also a great chance to re-engage your current players. 
If you're successful with that, you can encourage those existing bettors to give word-of-mouth recommendations to their friends.
Aim for a Simple, Stress-Free Experience
To successfully earn new customers from events, you need to make it as easy as possible to place a bet or engage with a freeplay game.
No matter how basic it may seem to you, there will be a portion of new bettors who have no idea how a money line works or what a spread is.
Offering educational material (like new bettor FAQs and explainer videos) is an excellent way to acclimate first-time bettors and make them feel comfortable with the process.
Then, when they're ready to bet, make sure that the process of placing their first wager is frictionless.
That means providing a simple and seamless user experience – all the way from entering a freeplay contest to making a deposit to placing a bet.
Connect with Chalkline
Read the full article to learn more about developing your event marketing strategy.
You can also browse all of the webinars in Chalkline's 'The Operator's Edge' series.
Set up a live conversation with Daniel to discuss how Chalkline can help your sportsbook attract new bettors and increase profits.
Learn more about Chalkline's free-to-play games.