This week, Chalkline CEO Daniel Kustelski spoke with iGaming Business about the role of free-to-play games in customer acquisition. Here's a recap of top takeaways. You can read the complete article right here.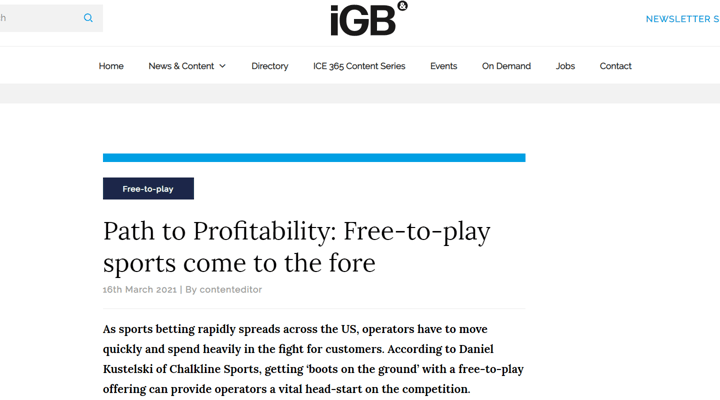 For betting operators, there's a considerable amount of pressure to attract customers in newly legal and existing markets.
Not only do these companies have to earn the attention of potential players, but in many cases, they also need to educate these new bettors on the basics of sports wagering.
For operators looking to solve these challenges, free-to-play games are an effective tool to bring in and engage new customers, Chalkline CEO Daniel Kustelski told iGaming Business this week.
Free-to-Play Games: An Entry into Real Money Wagering
In newly regulated parts of the United States, many fans want to place their first bet. But unfortunately, they don't know how.
To win over these curious bettors, you have to provide a gradual entry into sports betting. 
You'll also need to educate them about wagering concepts and terminology so they're comfortable with how everything works -- before they make their first bet.
By offering free-to-play games, you can acclimate customers into the world of sports betting without requiring them to sign up or deposit money up-front.
Growing Your Database with Free-to-Play Games
With free-to-play games, betting operators and media companies can grow their databases and get valuable insights into where their customers live, which sports they like, and more.
Especially in new markets, operators with robust free-to-play databases will have an advantage over their competitors when it comes to acquiring real money clients, Daniel said.
"Operators hold on tight to these databases. They protect that information intensely. And building up that data is important," he said. 
"If you're a casino, just because a player is loyal to you for land-based games – [such as] slots [or] craps – that doesn't necessarily mean you're going to get that person's sports betting business. You have to earn it. That's a challenge many operators see when they're gearing up for a big go-live."
Connect with Chalkline 
Read the full article to hear more from Daniel about why free-to-play games are a must-have customer acquisition tool for betting operators.
You can also browse all of the webinars in 'The Operator's Edge' series.
Set up a live conversation with Daniel to discuss how Chalkline can help your sportsbook attract new bettors and increase profits.
Learn more about Chalkline's free-to-play games.