This week, Chalkline announced its plans to expand its platform to offer freeplay and real money lottery and casino games in addition to sports betting. Here's a recap of top takeaways. You can read the complete article right here.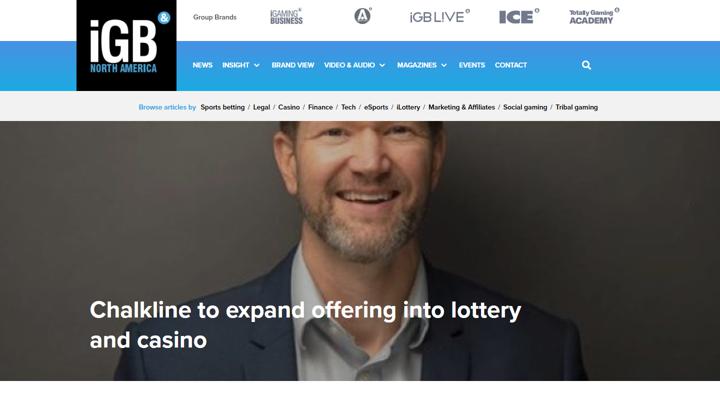 Since 2016, Chalkline Sports has focused on building freeplay and real money sports games for betting operators and media companies around the country.
Today, the company announced that it would broaden its offering to include lottery and casino games, including fixed odds lottery and real-money jackpot games. 
As part of the rebrand, the Nashville-based company also announced that it would change its name to Chalkline.
Chalkline's Role in the Growing US Gaming Industry
With a track record of providing free-to-play and real money games for established brands like Barstool Sports and NESN, Chalkline is well-positioned to expand into the broader gaming industry.
"Personalized and localized freeplay sports games have always been a key part of the Chalkline product suite, but there's so much more to our platform," said Chalkline CEO Daniel Kustelski.
"The rebrand to Chalkline represents our streamlined focus on becoming the number one B2B provider of free-play and real money games to operators and media companies in the US market."
What's New at Chalkline
With the expansion announcement, Chalkline also unveiled a new logo and website.
"While the brand and logo are getting a refresh, we're still the same experienced, global team that has been working in the regulated US iGaming market for five-plus years," said Daniel.
"This shift at Chalkline represents the same shift that many operators are experiencing: sports betting is part of a larger iGaming suite of products."
Connect with Chalkline 
Read the full article to learn more about Chalkline's rebrand and expansion. 
You can also browse all of the webinars in 'The Operator's Edge' series.
Set up a live conversation with Daniel to discuss how Chalkline can help your sportsbook attract new bettors and increase profits.
Learn more about Chalkline's free-to-play games.