Tapping into local passions for fans of the Chiefs, Jayhawks, Wildcats and more with "Play 4 Fun" Sports Promotion prediction games to build loyalty for patrons who love sports.
Our Goal: Delight our Players and Clients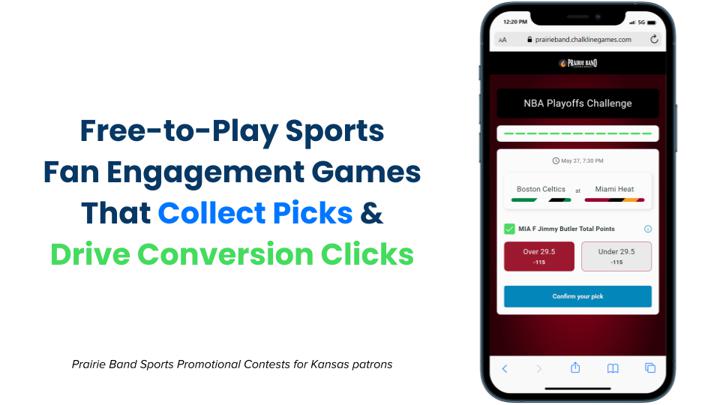 Players LOVE to play games with their favorite sports teams and players, and clients love the results.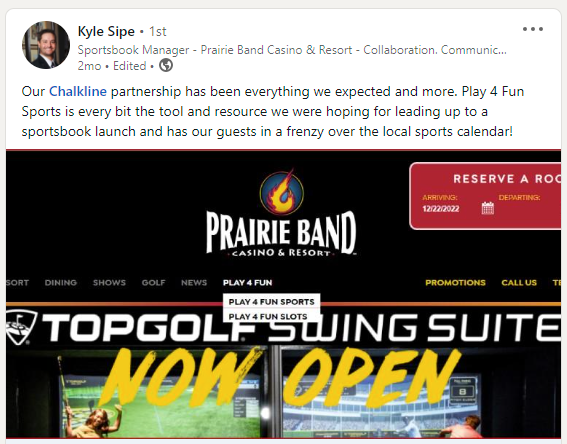 About Prairie Band Casino & Resort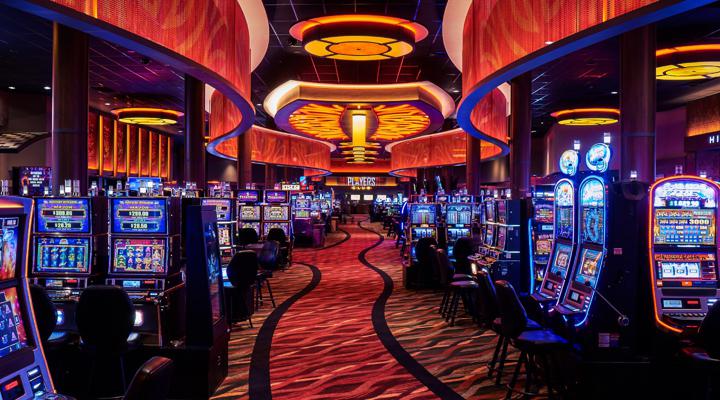 Owned by the Prairie Band Potawatomi Nation, Prairie Band Casino & Resort was the first full-service casino in Kansas and is located on tribal land only 15 minutes north of Topeka.
To get a complete understanding of the past, present and future of the Prairie Band Potawatomi Nation, watch the Tribal History Videos. For more information, visit the official Prairie Band Potawatomi Nation site.
The Opportunity
Located in northeastern Kansas, Prairie Band Casino & Resort has many loyal fans of the NFL's Kansas City Chiefs, and college fans of the University of Kansas Jayhawks and Kansas State University Wildcats, and many more teams and players.
Did we mention that the property has a nationally recognized golf course and probably a bunch of golf fans, too? 
What better way to engage fans than with free-to-play sports promotion prediction games for the big games that customers watch on property, or at home and in their favorite bars when they're not at Prairie Band Casino & Resort? 
The Sports Promotion Marketing Solution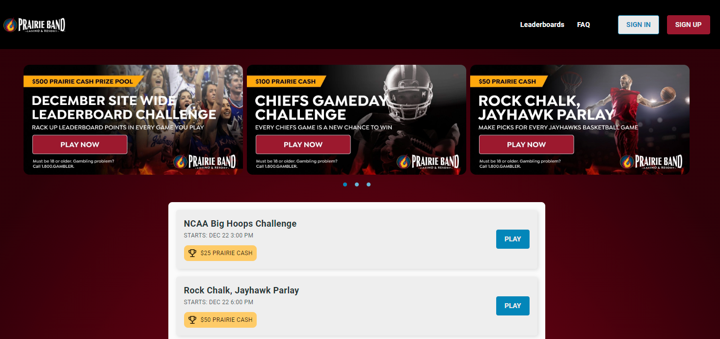 Together, we planned and launched a custom-built marketing program that included:
Our mobile-first web games are easy to play: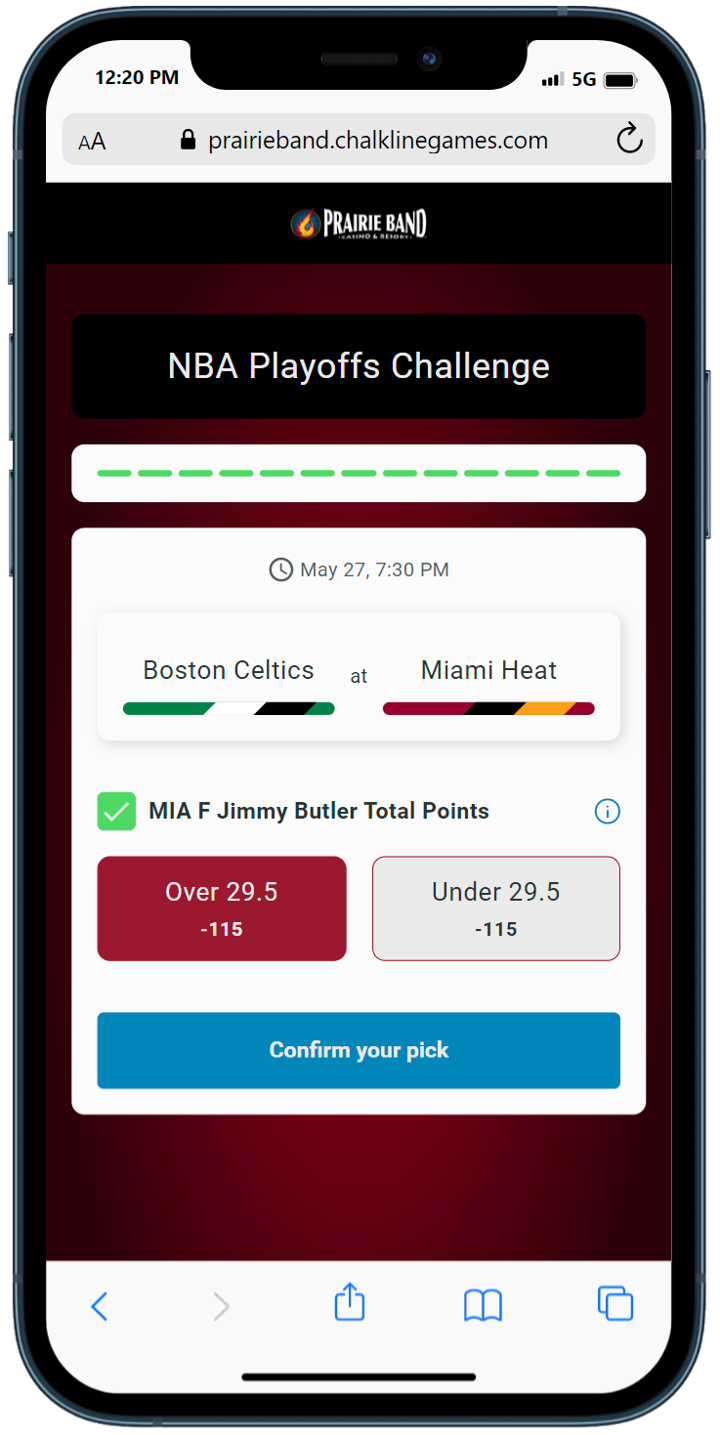 Now that Chalkline is up and running, we maintain momentum with the Prairie Band team:
Chalkline's content & communications calendar with Big Sporting Events.
A meeting or two every month to optimize and plan big promotions.
Regular reporting and analysis check-ins to ensure the numbers are up and to the right.
Our Three Favorite Wins from the Partnership
1. Launch was quick and easy.
Our mobile-first approach was welcomed by the team, and by players in initial testing.
The Prairie Band team immediately jumped on the opportunity and together, we had a test site up and running in a few weeks. 
After a week of testing, we received internal approval and were live.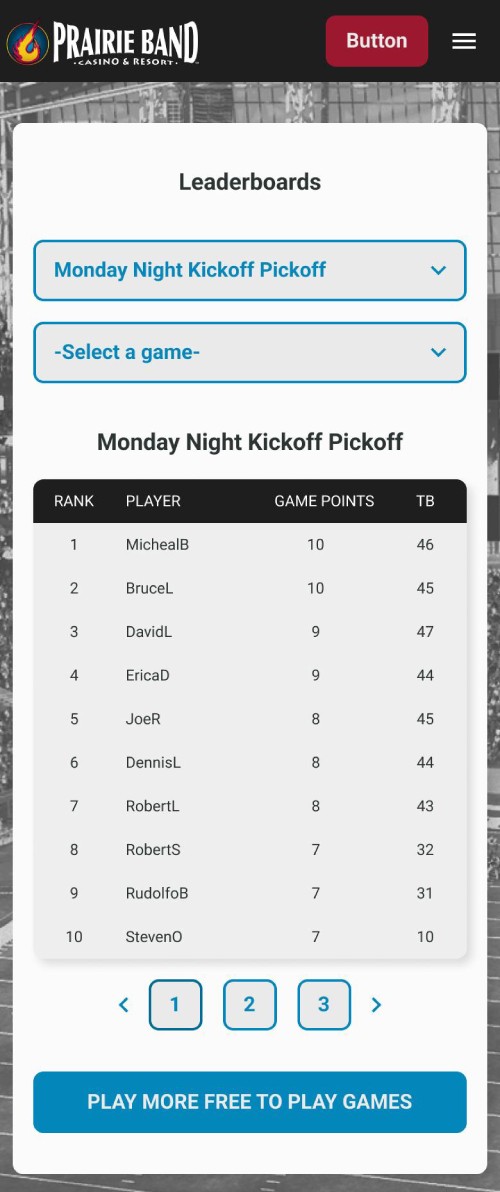 2. Prairie Band team's idea for a December Monthly Contest.
We LOVE this idea to drive month-long engagement through big sports events in December. Players seem to love it, too!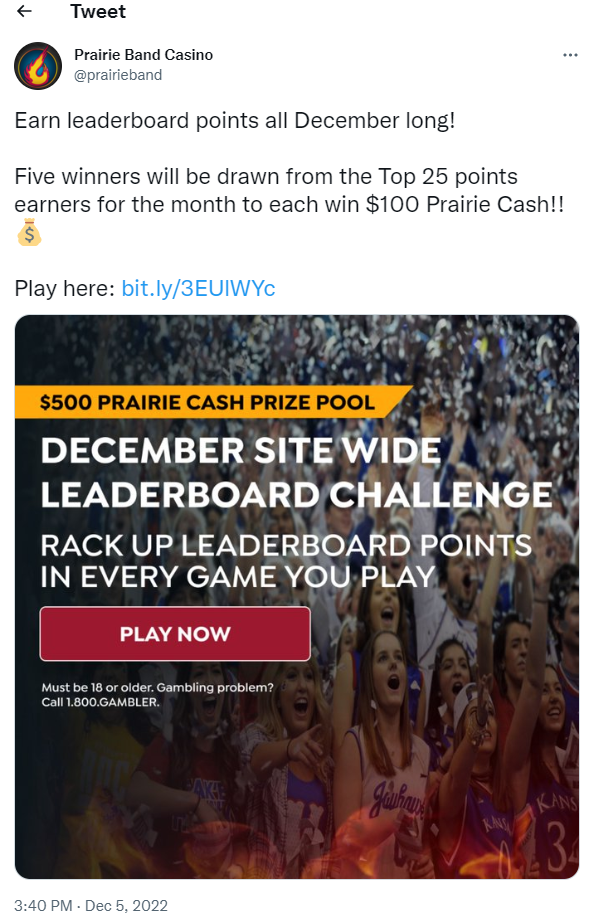 3. Big Local Promotions
We love the graphics that drive clicks to the localized promotions on social!
Chiefs contest promotion on Facebook: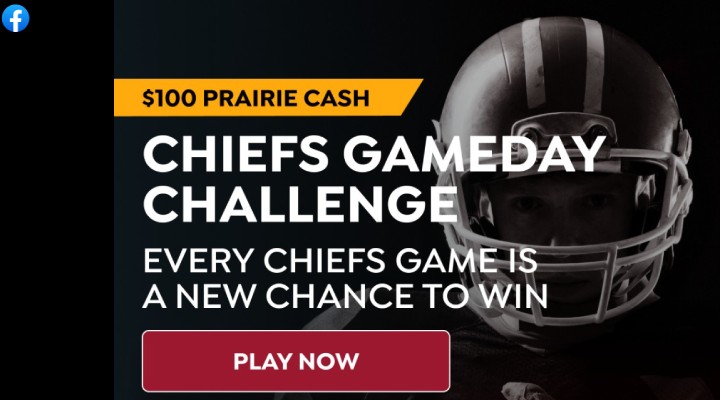 KU vs. K-State contest on Instagram: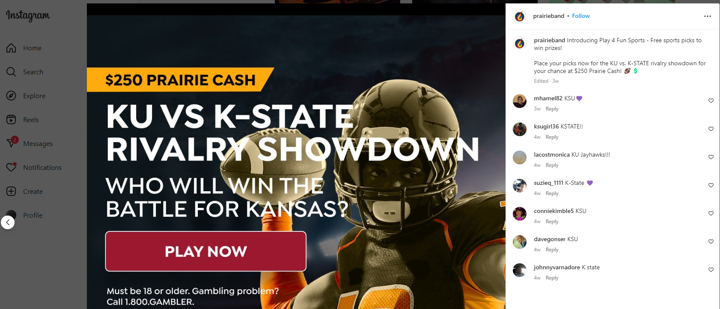 Bonus: Easy App Integration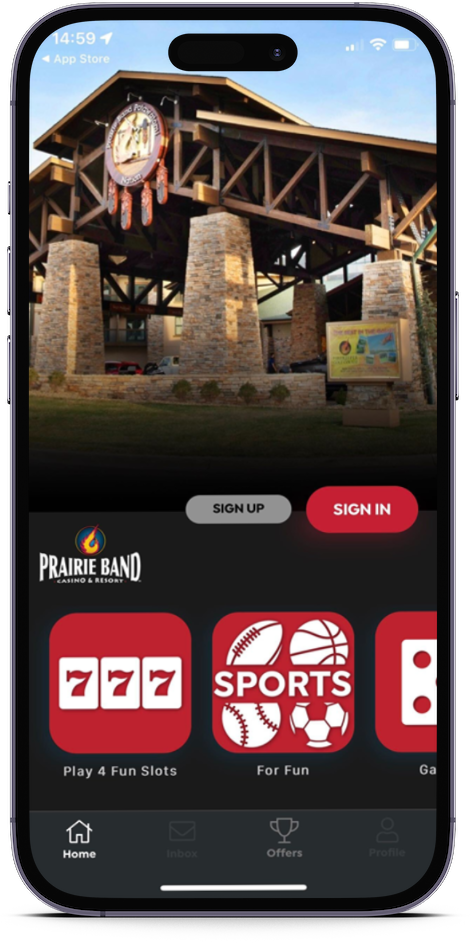 Chalkline's easy app integration makes this a no-brainer for omni-channel marketing.
Numbers We're Moving
The Prairie Band Casino marketing team is laser-focused on consistently improving our promotions during our regular marketing call, and the results are showing:
Email database growth
Contests Played
New Players Engaged
Clicks back to the Prairie Band Casino promotions page
What the Prairie Band Team Said
"I've always seen value in partnering with Chalkline. As we get closer to launching, it's even more valuable to engage with potential bettors.
By offering free to play games, we continue to build our database and provide players an additional engagement opportunity with our brand."
Chris Garrow, Director of Gaming, Prairie Band Casino & Resort
What's Next for Prairie Band Casino Sports Promotions?
A full slate of free-to-play Big Game Contests for 2023, starting with the NCAA Football Championship, the Super Bowl, March Madness and more in the first three months of the year. 
New retail activation methods to drive online + retail adoption of games.
More month-long contests that loyal players love.
Interested in learning more? 
Go play along at https://prairieband.chalklinegames.com!