Chalkline is headed to the NIGA Mid-Year Conference on November 15-17. Here's what to expect from this year's event.
Fresh off of the excitement of TribalNet 2021, the Chalkline team is preparing to head west for the 2021 NIGA Mid-Year Conference.
This year's event will take place from November 15-17 at Pechanga Resort Casino in Temecula, California. If you'll be in town, we'd love to connect.
NIGA conferences are some of the most anticipated events on our calendar. Here's what we're looking forward to at the Mid-Year Conference.
1. California is already a casino hot spot, with legalized sports betting up next
The Golden State has a large, established casino community, so it's always great to catch up and network with local leaders when we're in California.
There's something else that we're eager to discuss: the proposed sports betting measures on the California ballot in 2022. What are you doing to prepare for sports betting? And if you operate in a state that already has regulated sports betting, what are you doing to attract new customers and grow your loyalty database?
Legalized sports betting in the country's most populated state will have huge implications for our industry - and we can't wait to be at the epicenter of it all at NIGA.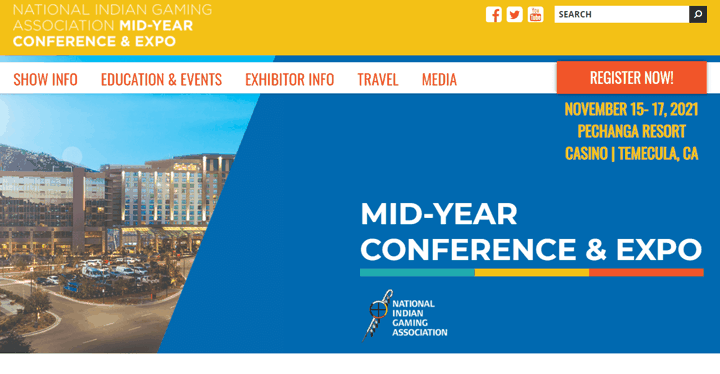 2. Connecting with industry colleagues new and old
Even though in-person events have been making a comeback, we're still catching up on lost time with industry colleagues over the past 18+ months.
We're thrilled to spend more time connecting, networking, and getting inspired at the NIGA Mid-Year Conference.
3. Our CEO Daniel Kustelski's speaking session
This year's line-up is truly impressive, featuring tons of thought-provoking sessions and a long list of accomplished industry experts.
Notably, we're excited that our CEO Daniel Kustelski will join a panel of industry pros to discuss mobile sports betting and where it might fit within tribal gaming.
Their session is happening on Wednesday, November 17 at 9:00 a.m. Here are the full details:
Sports Bettors: The New Casino Customer
Who is the sports bettor and how are they different from traditional casino customers? Sports betting is a very different kind of wagering than slots and table games. Industry researchers and sports book operators discuss sports betting behavior and the new type of customer who may be coming to your property soon. 
Moderator: Gene Johnson, Executive Vice President, Victor-Strategies
Daniel J. Kustelski, CEO & Co-Founder, Chalkine Sports
John Worthington, General Manager at Gamewise
Sarah Robertson, VP of Sales, Kambi
Here's the full conference agenda.
Let's Chat!
If you're heading to NIGA, we'd love to connect. Grab a 15-minute time slot with Daniel to discuss how Chalkline can help you build your loyalty database or launch your sportsbook.
You can also check out recent webinars from our "Operator's Edge" series. Our latest event could be particularly useful before heading to NIGA: Five Lessons Learned Integrating a Sportsbook Into a Casino.