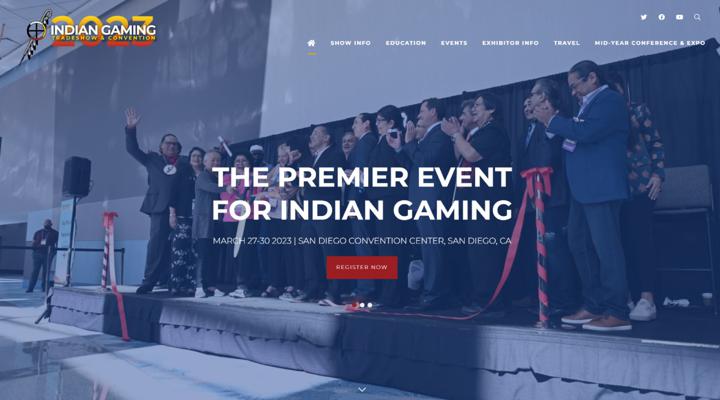 About IGA 2023
Entering its 37th year, the Indian Gaming Tradeshow & Convention has established itself not only as the premier event for the Indian Gaming industry but as the largest gathering of tribal leaders and casino executives in the country.
Chalkline Sports will be attending again this year and we'd love to say hello.
For more information about IGA 2023, visit www.indiangamingtradeshow.com.
#1: The Pace of Industry Change Makes This a Perfect Time for Industry Leadership to Get Together
The industry is in the midst of change, for a host of reasons: mobile, security, AI, and the changing expectations of existing players as the industry innovates to engage new players.
Today's inflection point is tomorrow's opportunity, and the exclusive mix of tribal leaders, industry vendors and innovators makes IGA 2023 a perfect opportunity to join the conversation.
If you need to stay stay up-to-date with the latest trends and regulatory developments in the Indian gaming market, we'll plan to see you here.
#2: Strong Education Program Includes AI, Mobile and More
Some of our favorite sessions:
Marketing Trends & Strategies - Join industry leaders Julie Carcamo, Dyani Marvel, Andy Parnell and Agata Maher for a conversation on the latest strategies, tools and tactics casino marketing experts need in their tool bag.
Digital Transformation: The Omnichannel patron experience and the rise of the "Super App": Join Aron Ezra, Christopher Justice, John Parsons and Victor Newsom for a conversation about how Mobile Marketing complements and even drives amazing guest experiences. 
And of course, near and dear to us:
Mobile Gambling: iGaming, Sports Betting and Indian Country - Join me, Brett Calapp, Melissa Blau, Rob Lekites and Sarah Robertson for a conversation about how fan engagement, sports betting and retail events can help you build digital and traditional revenue streams while building your loyalty database.
View the full Conference program here.
#3: Loyalty Marketing + Player Data is Front and Center
The guest experience is at a transformational moment.
2022 was a banner year for transformational technologies, especially in the AI space.
For most of us, the question remains: how can I make these new technologies available in a meaningful way?
Loyalty database building has never presented more options to marketers leaning forward into technology and data.
Mobile apps, sports prediction games, live + retail experiences and so much more are available, and all are tied together when savvy marketers are building and activating player databases.
The combination of industry leaders and industry-leading vendors sharing how they are shaping the future of player engagement is probably most exciting for us.
Connect with Daniel at IGA 2023
Say hello if you're going to be there!
Connect with Daniel on LinkedIn or drop him a message at daniel@chalklinesports.com.