Chalkline CEO Daniel Kustelski recently wrote an article for EGR's Conversion Corner series, exploring how bettor behaviors and preferences vary across the country. You can read the full article here.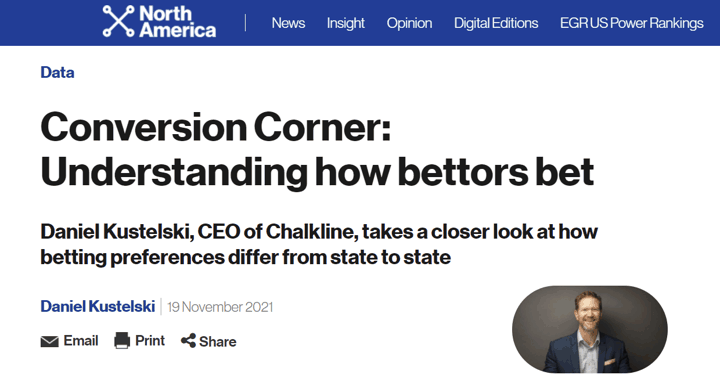 It's been three-and-a-half years since the Supreme Court lifted PASPA, legalizing sports betting in the United States. 
Since then, we've seen US sports bettors evolve in several ways, including which sports they bet on and which bet types they choose.
We've highlighted some of these shifts below, including state-specific trends and general US sports betting trends.
Betting Behavior by State
Not only is it fascinating to explore betting behavior data by state, but it's also incredibly useful to help make better business and marketing decisions in these jurisdictions.
Here's a brief summary of trends we're seeing in a handful of legalized states.
New Jersey
One of the most significant findings from New Jersey is that the state's total handle went up by at least 50% between 2020 and 2021 – proving that there's plenty of opportunities to be had here.
Although football betting is increasing in New Jersey, there's been a drop in basketball and baseball wagering.
However, the state saw big jumps in other sports. Increases were seen in MMA, golf and hockey betting.
Indiana and Nevada 
In 2020, Indiana and Nevada were miles apart in terms of betting behavior.
For example, in Indiana, 23% of handle came from football bets – which was half of Nevada's figure (46%).
There were also significant differences in the types of bets made in each state.
While parlays accounted for a quarter of handle in Indiana, they made up just 1% of bets in Nevada.
Colorado
Despite being a newer market, there is still plenty of valuable bettor data from Colorado.
In August 2020, as professional sports started to resume after the initial COVID-19 outbreak, basketball accounted for 29% of handle in the Centennial State.
A year later, that number was down to 5%.
National Trends in US Sports Betting
On a national level, there are also a few important trends to note.
For starters, parlays are steadily increasing in many states. In Colorado, parlays grew from 18% to 29% of handle last year.
Similarly, single bets are decreasing in New Jersey – likely indicating that the marketing push toward parlays is effective.
There are other changes as well, including a shift from retail to online horse racing and a resurgence in daily fantasy sports.
Connect with Chalkline
Read the full article for more data and examples of varying betting preferences across the US.
You can also browse all of the webinars in Chalkline's 'The Operator's Edge' series.
Set up a live conversation to discuss how Chalkline can help your sportsbook attract new bettors and increase profits.
Learn more about Chalkline's free-to-play games.