G2E 2021 ran from October 4-7 and exceeded expectations.
1. GREAT job by the Global Gaming Expo and American Gaming Association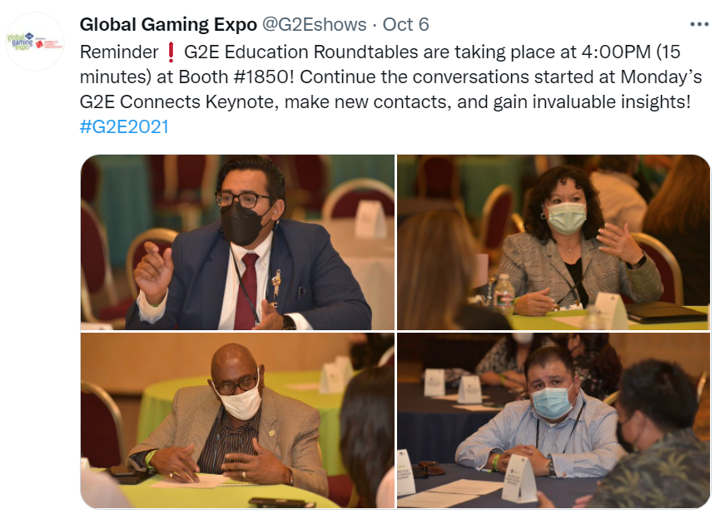 Despite all the added layers of complexity, G2E created a safe and engaging show. Lines were efficient and the "Ask Me a Question" crew was great, as usual.
Plus, the content was rock-solid, and several key industry issues--player safety, industry diversity, responsible gaming--were front and center on the program.
2. People who showed up were ready to do business
Nearly everyone we spoke to at the show said the same thing: the people who managed to show up came to WORK. 
Deals always get announced at G2E, but in our case and many others, deals got DONE.
3. Networking events were even better than usual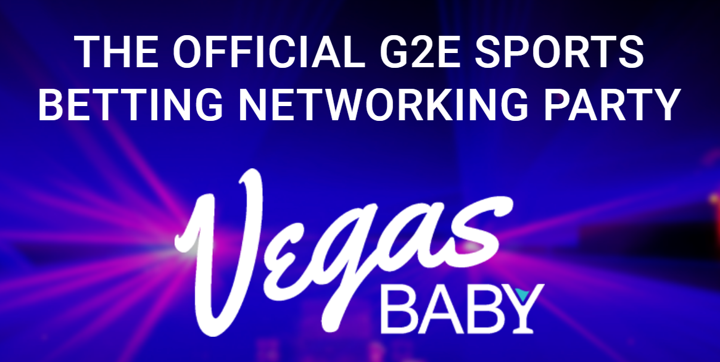 We're not sure why this was so (may relate to #2 above), but everyone we spoke to agreed on this as well.
Maybe it was because we hadn't seen each other in so long?
Highlights include:
* Innovation Group lunch
* Nearly all of the sponsor-driven gatherings that we popped into
It really made a difference to have these events to reconnect with old friends and make new ones.
4. For sports betting, the conversation is shifting from market access to acquisition 
This is the most exciting development for us at Chalkline. 
While many operators are still jockeying for access, the conference programming and coffee/cocktail conversations we had are turning to player acquisition and retention. This may mark the end of the 1st quarter for sports betting in America.
We feel right at home in this conversation with our:
* State-level, localized games
* BettorBI and patented Five-Tool Freeplay Player Value Model
* Deep player prop games, like our "TB12 Super Prop Freeplay Challenge"
Final Word of Thanks
As a veteran-led company, Chalkline knows the power of community and believes in giving back. 
THANK YOU to all who supported the Inaugural Fun Run for Responsible Gambling, specifically benefitting Operation Responsible Gambling for military veterans.
Shout out to the AGA and the National Council on Problem Gambling for their support.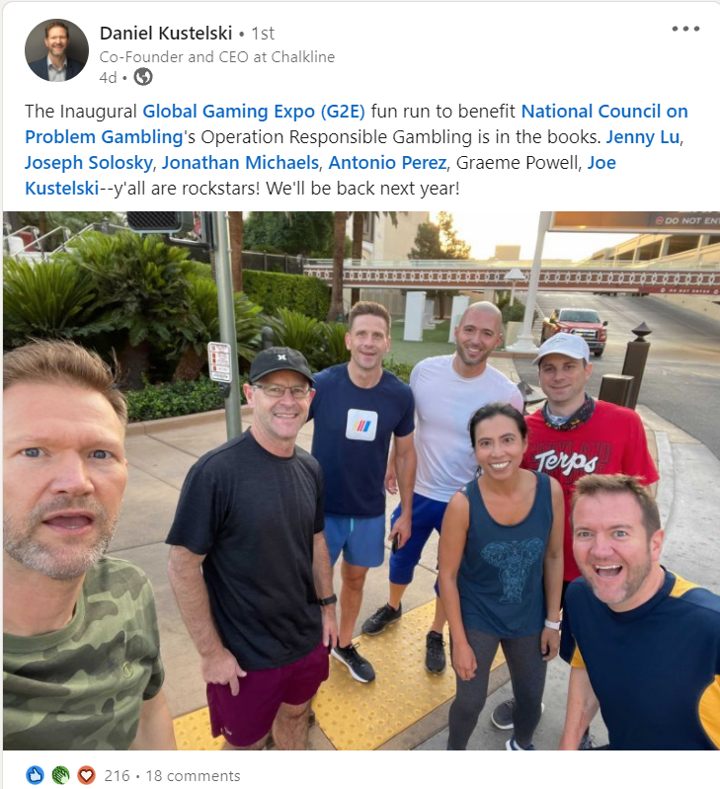 Sign up for next year's Fun Run for Responsible Gambling here.
See you next year!